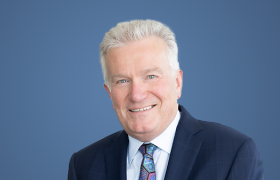 Duncan Niederauer served as Chief Executive Officer of the NYSE from 2007-2014. Mr. Niederauer was a partner at Goldman Sachs where he worked from 1985-2007. 
Mr. Niederauer is a Founder & Managing Partner of Transcend Capital Advisors and a co-founder of Communitas Capital Partners, a fintech venture fund. He also sits on the board of Anywhere Real Estate, the Advisory Board of the Bob Woodruff Foundation and is the President of the Venezia Football Club.
Mr. Niederauer earned a BA from Colgate University and an MBA from Emory University, and has served on both the Alumni Council and Board of Trustees for Colgate.
Mr. Niederauer has received numerous career distinctions and honors, most notably the John C. Whitehead Award for leadership in 2014. He was also recognized as an Honorary Commander of the British Empire (CBE) by her majesty, Queen Elizabeth II, in 2013 for his efforts to advance the peace process in Northern Ireland.
Mr. Niederauer and his wife Alison led the Newmark School's "Destination of Promise" campaign, which built a state of the art school for children with autism and related disabilities in Scotch Plains, NJ.