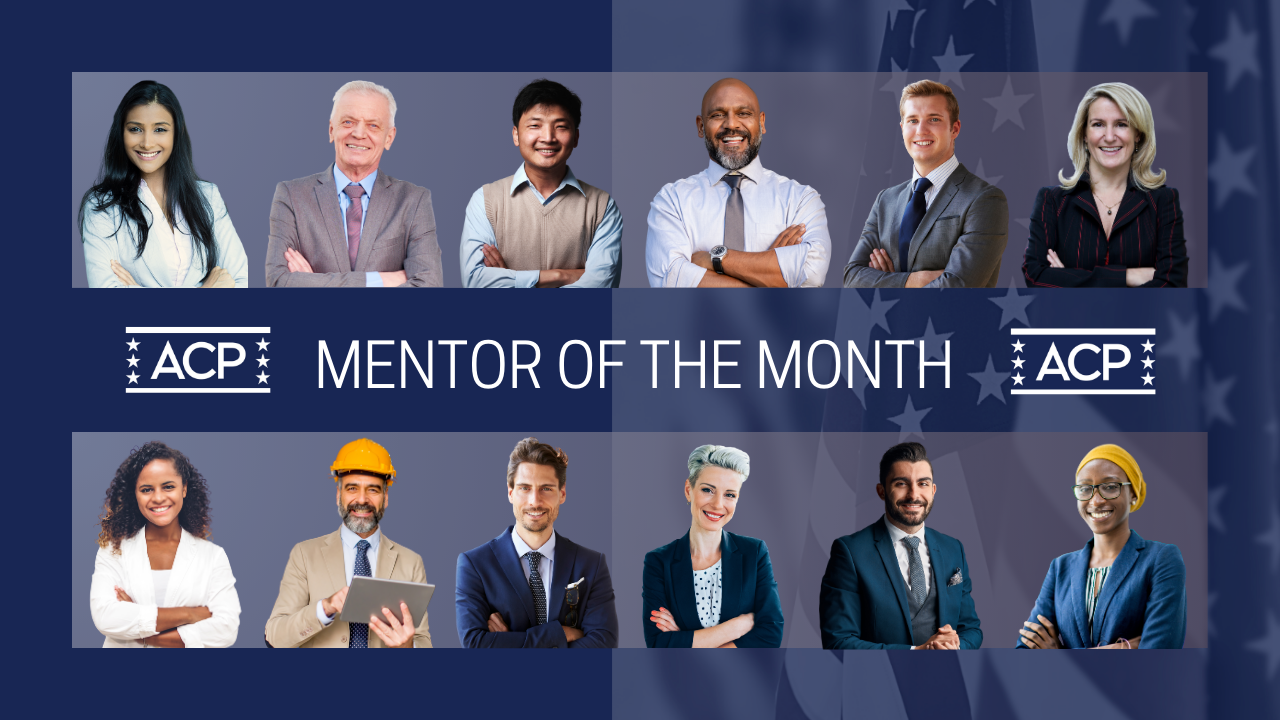 ACP celebrates the outstanding work of individual Mentors through the Mentor of the Month contest. Veteran Protégés submit nominations for their Mentors throughout the year, and ACP staff selects 1-3 Mentors each month who have made a significant impact on their Protégés' career transitions. To commemorate the winners, each selected Mentor is featured on ACP's website and both Mentor and Protégé receive an ACP memento as a token of our appreciation for their commitment and hard work.
June 2023: ACP congratulates Joshua Correy and Thomas Curran of Ameriprise Financial!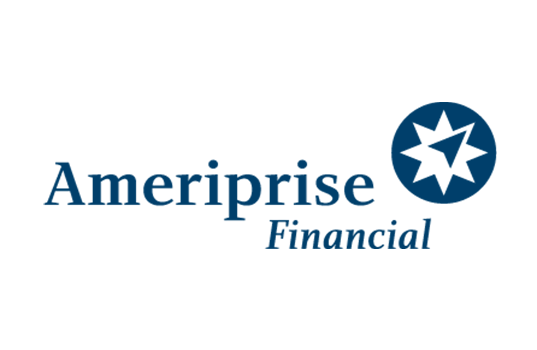 I would like to nominate Joshua J. Corroy for ACP's Mentor of the Month.  Our nine months together provided the most professional transitional guidance and mentorship I have ever received during my military career.  His attention to detail and his willingness to help has provided the motivation and push for me to shape my life after the military.  Mr. Corroy has an extraordinary wealth of knowledge and had the ability to relate and translate military to civilian life.
My transition from military to civilian was filled with uncertainty and I was given a choice for the first time in deciding what I wanted to do with my life.  It is with Mr. Corroy's experience and mentorship that I was able to gain direction.  He reviewed and gave guidance on resume building, using his own professional experience to shape and direct interviews in my favor.  He has provided guidance in the work sector that directed me to my current job and is instructing me on how to show an organization the best of me. 
Mr. Corroy has gone above and beyond in his availability and the resources provided.  The one-on-one sessions not only allow me to meet with Mr Corroy but are used as a strengthening of communication skills and interactions with business partners.  Every meetup builds my kit bag for life after service.  Mr. Corroy is an outstanding asset to ACP and an outstanding leader.

- Rudy D., U.S. Army, Texas
 
I would like to nominate Thomas Curran as Mentor of the Month. During our initial meeting, Thomas made it a priority to get to know me as a person prior to discussing any professional and personal goals. He has gone above and beyond to make himself available. Tom has grown to know me on a personal level going as far as to ask how my wife and children are doing whenever we speak. Because of his personalized approach and positive attitude, I am beginning to see the success I prayed for when I transitioned from the United States Air Force. Thomas has been instrumental in my latest professional successes. Recently I applied and was accepted as a federal contractor through a security company. Additionally, I have become a business owner, opening and operating my own barbershop. I do not walk this path with the confidence that I need without him. I wholeheartedly recommend Thomas Curran for this award next month, and every month afterward. Thank you for your time and consideration. 

- Jared J., U.S. Air Force, Georgia
May 2023: ACP congratulates Julia Davids and Julius "Juice" Madai of Raytheon!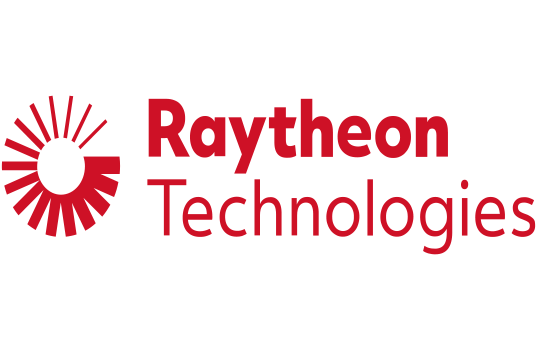 I would like to nominate Julie Davids for ACP's Mentor of the Month.  Throughout our time together, Julie has been an outstanding mentor, offering invaluable insight when it comes to developing my professional career and helping me navigate a successful transition. Julie has gone out of her way to provide me with candid feedback by reviewing my resume and talking about setting realistic expectations for post-military employment.  We also discussed my skillbridge opportunities and she provided some insight that I utilized to choose the program that works best for me.
Beyond the items listed above, Julie has reached out to me outside of our scheduled meeting times to connect with me, and answer any questions that may have arisen throughout the time in between sessions.  Additionally, she has virtually introduced me to other working professionals within her professional network that have offered me their unique perspectives as well as within her organization and the IT / Cybersecurity community.
Originally, I was a little apprehensive about having a mentor that was not a veteran, however, my worries quickly subsided after the first time I met with Julie.  Her professionalism, dedication, and candor throughout this process have been absolutely essential in ensuring that I feel confident to take the next steps.  It has truly been my privilege to work with Julie.

- Brandon N., U.S. Army, North Carolina


I am honored to nominate Juice Madai for the ACP Mentor of the Month Award in recognition of his exceptional guidance and support during my transition from a 26-year army career to corporate America. Juice's unwavering dedication and commitment to my professional growth have been instrumental in helping me successfully navigate the challenges of starting a new career in a completely different environment.
When I first met Juice, I was struggling to understand and adjust to the demands of the corporate world. I had no idea how to leverage my military skills and experiences to succeed in a civilian setting. However, he patiently listened to my concerns and provided me with invaluable insights and advice that helped me gain confidence and build a solid foundation for my career. His mentorship went beyond just providing me with technical skills and job-related knowledge. He also taught me how to network, communicate effectively, and navigate the politics of the workplace. Juice's guidance on how to tailor my resume and interview skills to the corporate world was especially helpful, and I credit much of my success to his mentorship.
What stands out most about Juice's mentorship is the time and effort he put into helping me succeed. He was always available to answer my questions, provide feedback on my work, and offer encouragement when I needed it most. His willingness to advocate for me and connect me with other professionals in the field was invaluable, and it opened doors that I never would have been able to access on my own.
I was particularly impressed with his ability to understand my unique challenges as a military veteran and offer insights on how to overcome them. His willingness to share his own experiences and stories was inspiring and helped me to navigate the often-difficult path of transitioning from a military career to a civilian one. Juice helped me to understand the cultural differences between military and corporate America, and how to use my military experiences to excel in the corporate world. His commitment to my success has been truly exceptional. He went above and beyond to ensure that I had the tools and resources I needed to thrive in the corporate world. He was always available to provide guidance and support, and his mentorship went beyond just professional matters.
In conclusion, I strongly recommend Juice for the ACP Mentor of the Month Award for his outstanding mentorship and dedication to helping me and other veterans succeed in the corporate world. His ability to understand and empathize with the unique challenges of transitioning from the military to corporate America is truly exceptional, and his unwavering support and guidance have been instrumental in my success. Juice is an exceptional mentor and friend, and I am proud to have had the opportunity to work with him!

- Larry B., U.S. Army, Washington
April 2023: ACP congratulates Jon Townend and Brian Yarbrough of Johnson and Johnson!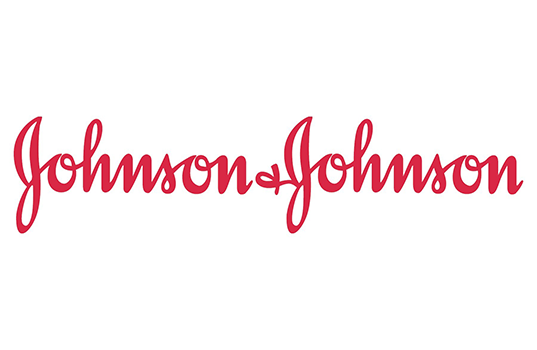 ACP is extremely honored to nominate Johnson & Johnson Mentor Jon Townend as ACP's Mentor of the Month. Jon has been a seasoned ACP mentor for nearly a decade providing his niche experience and guidance to 9 ACP proteges. From helping every single one of his proteges to find meaningful employment upon their transitions to providing thoughtful perspectives on how to engage with the culture of Corporate America, Jon has certainly left his mark on the ACP community. Honorably titled as 'The Best ACP Mentor' and a 'kind soul' by his previous proteges, his nomination today is no surprise. With his last ACP mentorship closing out this week, Jon's final protege had this perspective to share:
On just the outset of working together, I was learning a lot about the corporate world from Jon and definitely felt like I was better prepared for life after the Army with him as my corporate mentor. Jon's mentorship and insight after the fact continued to be beneficial and value-added to my career as an IT Asset Manager / Project Manage. He consistently provided sound advice from a senior executive perspective, and although he has already helped me find my first job out of the Army, we still keep in touch on a regular basis. As of late, Jon continues to help me better understand the corporate world and has helped me navigate certain situations that are commonplace in the corporate world but are unfamiliar to someone who has spent the last 20 years in the Army. He has connected me with people in his network that are able to provide recommendations on how to improve my operations and increase my viability with my current employer. I'm greatly appreciative of his mentorship and we both will probably continue this mentorship even after the conclusion of this program with ACP.  If I could give Jon a rating it would be 10 stars out of 5! I'm honored to be mentored by Jon and hope to maintain this relationship indefinitely.

-Antoniorey P., U.S. Army, Hawaii


It is my pleasure to nominate Brian as a mentor of the month. From the very beginning, Brian's mentorship, experience, and dedication to guiding me to a successful professional transition from my military career to my civilian career have been invaluable. From our very first conversation, Brian and I clicked on a personal level. It didn't take long for our conversations to quickly turn from not only professional guidance/advice but also personal stories (most of which are hilarious), hot sports takes, and in-depth personal advice. From our similar career journeys upon exiting the military to our love of sports, Brian and I share an almost brotherly bond.
Throughout the past 8 months, Brian has helped me with writing my resume, interviewing, writing professional performance goals, and expectations upon entering Corporate America, and above all else, building my confidence to succeed in my new professional career. What I enjoy the most about our relationship is that our conversations are mutually beneficial. Often, I feel that I am receiving all this information from Brian and that I have nothing to offer in return. Brian assures me that the questions that I ask him are well thought out and they require him to have some introspection. Our bond allows me to be extremely receptive to his in-depth guidance that follows our conversations and often I can immediately implement his advice and see a positive impact.
Brian has truly been a beacon of knowledge and guidance and I cannot thank him enough for what he has taught me. I sincerely believe that if Brian was not my mentor, then I would not be as successful as I am today.

-Spenser S., U.S. Army, Texas
March 2023: ACP congratulates Kevin Daigneault and Susan Wilson of Northrop Grumman!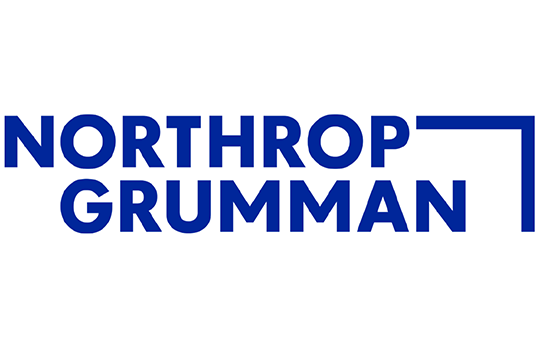 I am pleased to nominate Kevin Daigneault as the ACP Mentor of the Month. Kevin has demonstrated exceptional mentorship skills, providing invaluable guidance and support on my journey to success. From the beginning, he took the time to understand my background and review my resume, providing me with targeted advice on the initial roles I should apply for. He also shared his insights into the specific experiences, training, and mindset required to succeed in my targeted industry.
One of the things that impressed me the most was Kevin's candidness about the challenges that can arise when transitioning from military to civilian careers. He provided me with tips and strategies to overcome these obstacles, helping me focus my efforts and apply for a specific job that fits my skills and experience. With Kevin's guidance, I successfully navigated the interview process and negotiated a fair salary.
Throughout our discussions, Kevin was incredibly supportive and knowledgeable, offering even more valuable insights than I had anticipated. Thanks to his mentorship, I have been successful in my role, earning recognition from my management team on multiple occasions.
I feel incredibly fortunate to have been paired with such an experienced, competent, and professional mentor through ACP. Kevin's selfless dedication to my success, investing numerous hours of his time, is a testament to his character and commitment to the program. I cannot thank ACP enough for connecting me with Kevin, and I am truly grateful for all the guidance and assistance he has provided me. Kevin deserves to be recognized as a top-notch ACP mentor, and I am honored to nominate him for this well-deserved recognition.

-Richard S., U.S. Air Force, Alabama


I would like to nominate Susan Wilson for ACP's Mentor of the Month. Since the start of our mentorship, Susan has gone above and beyond in ensuring I have a smooth transition into a successful career after Active Duty. She has offered assistance with everything from resumé writing to building my professional network and has always made herself available to answer any questions I have. I chose to shift into a new career field and with that, comes challenges. Anytime I felt unsure of myself, Susan would remind me of my skills and talents and guide me into the next step to get me that much closer to my goal. Every time I talk to Susan, I always leave the call feeling more confident, prepared and knowledgeable. Susan is easy to talk to, extremely helpful and beyond dedicated as a mentor. I am so lucky to be her mentee and I look forward to her continued guidance. I thank ACP for giving us this opportunity to connect! Again, thank you for all your help!

-Tara S., U.S. Air Force, California
February 2023: ACP congratulates Stacey Phelps and Brandon Rondeau of John Deere!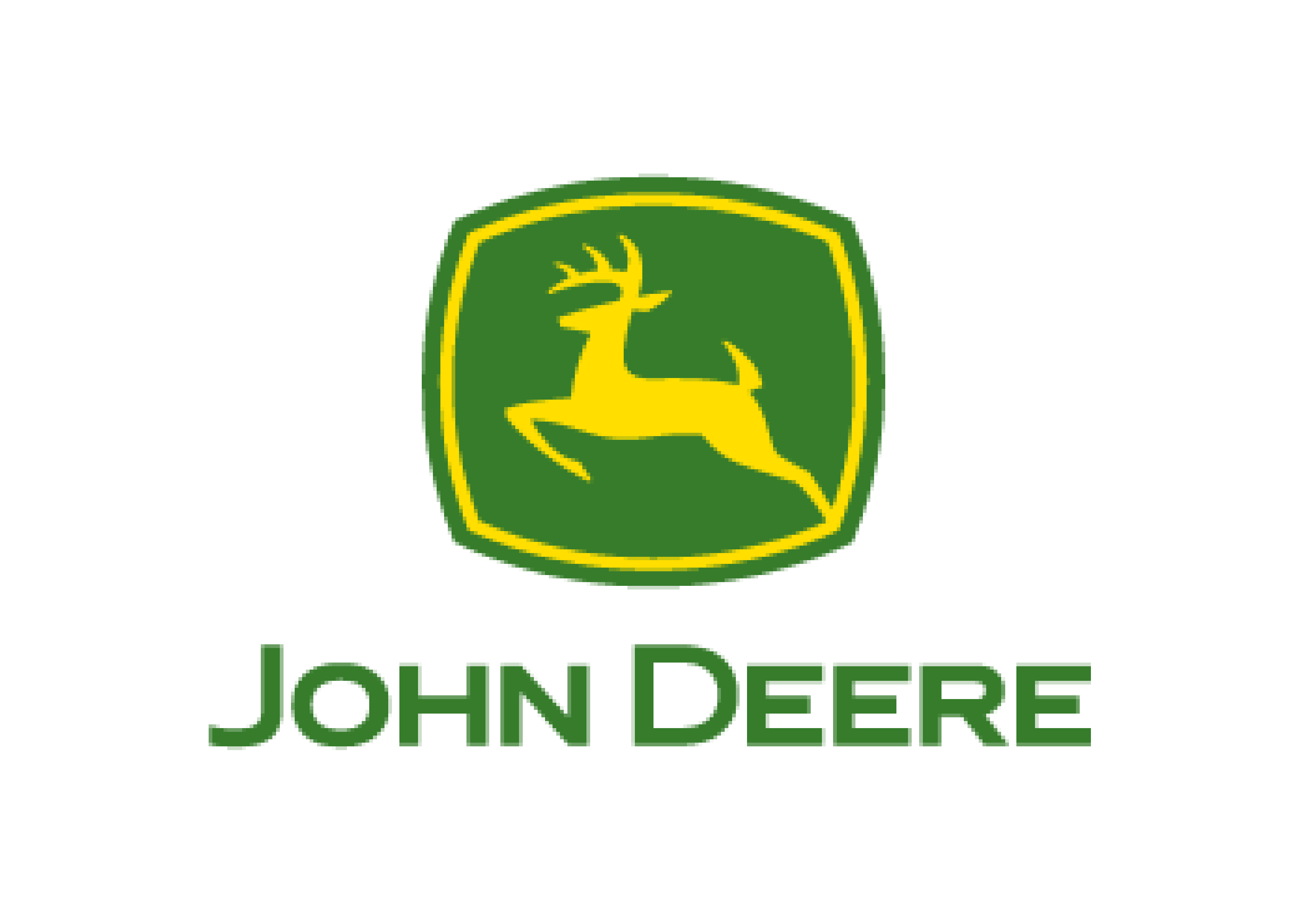 I would like to Nominate Brandon for Mentor of the Month. Brandon from day one has gone out of his way to establish a great line of open communication and goes out of his way to provide as much time and attention to me as needed. As a mentee, I could not be more grateful to have a mentor that provides such detailed answers to my million questions. Brandon has a great way of offering really constructive feedback and really breaks down complex issues I've had such as resume writing and interview skills. There has yet to be a question that Brandon cannot answer and his knowledge and experience has given me the confidence to continue to improve and build on my current skill set.  This mentoring adventure thus far has offered more than I expected to receive and I could not be more grateful!

-Gilbert J., U.S. Marine Corps, Arizona
 
I would like to nominate Stacey Phelps as Mentor for the Month. When I first heard about ACP's Mentorship Program for transitioning service members, I quickly jumped onboard because I wasn't sure which path I wanted to take after leaving the military. Shortly after, I was paired with Stacey and I can truly say what a Godsend. She has challenged me to explore my strengths and channel that energy into possible career opportunities. We have bonded over our love for the country, we are both daughters of Jamaican soil, and we have many things in common. We have both demonstrated that transitioning is a part of our DNA because we did it before by leaving our homeland to be in another country, so navigating a new career path will take some adjustment but it can be done.
Stacey has really been there for, not only for my career transition,  but also for personal matters. As transitioning service members, we face a lot of uncertainty returning to civilian life, so it's important that we have someone we can rely on. There were times when I needed spiritual guidance and she was there to support and cheer me on when those worries turned into victories.
Thanks Stacey for making me part of your schedule and going above and beyond. Thanks for being awesome!

-Suzette L., U.S. Navy, California
January 2023: ACP congratulates Rupam Bora and Charlie Weiss of Oxy!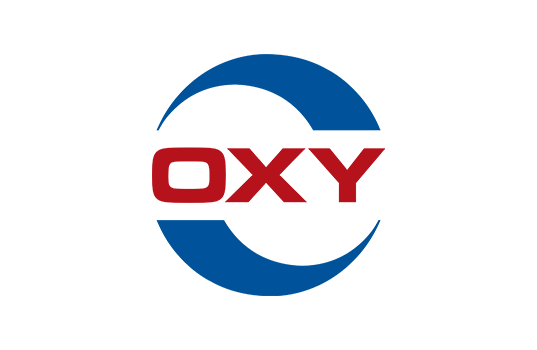 As a senior Army leader set to transition after serving over 29 years, it is a pleasure and honor to nominate Rupam Bora for ACP Mentor of the Month. Rupam is a tremendous person and leader who is passionate about assisting and mentoring our service members. I have been extremely impressed with him as a mentor and friend. His integrity, perseverance, and dedication to this awesome program serve as the blueprint for others to emulate. Additionally, his wealth of knowledge is second to none, with regard to assisting any service member with the transition from service.
Rupam uses a methodical approach to each mentor session that allows me to easily navigate the unchartered waters we call military transition. Of all the outstanding traits he has, the one that stands out the most is that he cares. He has taken the time to provide feedback and recommendations to improve my resume, along with driving a strong focus and emphasis on networking using LinkedIn. These small yet impactful recommendations enabled me to come one step closer to landing future opportunities within Corporate America. Rupam is without question a "game-changer." I would recommend his services and expertise to any of my friends transitioning from the Army. Based on his superstar performance and unwavering support, he has my highest recommendation for ACP Mentor of the Month.

-Marvin D. Martin, U.S. Army, Texas
 
It is my pleasure to nominate Charlie Weiss for ACP's Mentor of the Month recognition. Charlie became an invaluable mentor to me even after our first couple of meetings. Honestly, when I first applied to be an ACP protégé I had little faith that ACP would be able to find a suitable mentor in my specific field of environmental compliance (which is the opposite of my direct combat role in the military). My screening call with ACP ended with me hoping to find a mentor in a field that was at least relatable to what I do. Then they sent me Charlie's bio.  
Charlie is currently the Executive Advisor, HSE, Sustainability & Communications and has worked in the environmental realm for longer than my professional career. It's amazing that he manages his professional duties and family obligations while still making time, at least every month, to talk about my career challenges and ambitions. The high-level guidance that he provides to me matter-of-factly isn't just invaluable to me, it's unobtainable through any other avenue than ACP's mentorship program. I'll be forever indebted to ACP and Charlie for this mentoring opportunity. Charlie is, without a doubt, a tier 1 mentor! 

-Jacob O., U.S. Marine Corps, Washington
December 2022: ACP congratulates Sarah Glendon and Michael Stiller of AECOM!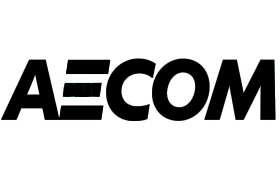 When we began our mentorship Michael dedicated the time to listen to the roadblocks in my career and frustration with my current employment. I felt stuck in my current position; unsure of how to move forward after being passed over for positions I was qualified for. We discussed where to develop my skills, certifications to pursue, and how to proceed. When I got a job offer, Michael helped negotiate a more appropriate salary and benefits package. While discussing this, he realized I had much of the experience that his own employer was looking for. In light of this, Michael connected me with the department director resulting in a great offer.
Throughout our mentorship, he has helped me navigate the corporate world, further develop my skillset, and network within the organization. I greatly appreciate ACP and Michael for the opportunity and effort that has been put into my career. I look forward to our meetings every month, and consider Michael a friend. One day, I hope to mentor another veteran so I can pass on what I've gained through this amazing program.

- Heath W., U.S. Army, Texas
 
I would like to nominate Sarah Glendon as ACP's Mentor of the Month. As a military spouse starting my career in science, I was unsure ACP would be able to find a good match; but being paired with Sarah has been a blessing, and she is up for the challenge! Since the start of our mentorship, Sarah has worked hard to provide the right resources by contacting people in my field of interest, prompting meetings, providing resume and interview advice, and even answering emails on weekends. As a military spouse, Sarah understands the challenges career relocation can bring, particularly within the science field. Through her advice, she intends to ease the struggles of career relocation by developing me to be a distinguished candidate for future positions. Sarah has opened my eyes to positions that extend beyond federal employment, and I feel confident that with her help I will be fully prepared to take on that next interview. I look forward to Sarah's guidance at our monthly meetings, and her charismatic personality makes every conversation enjoyable.

-Shannon A., U.S. Air Force Spouse, Fort Meade, MD
November 2022: ACP congratulates John Pratt and Glenna Thompson of Bank of America!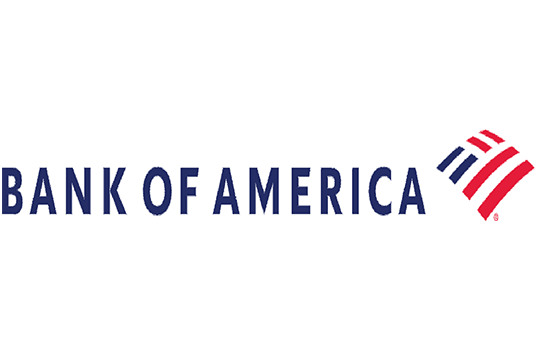 I would like to nominate John Pratt for ACP mentor of the month. John provided me with the guidance and focus needed for me to transition straight from the military to investment banking at Goldman Sachs. I started speaking with John in October 2021, where I laid out my general reasons for wanting to get into the profession. He pushed me hard to network and gave me access to his extensive experience in banking. Throughout my recruiting process, he guided me to direct my energy toward the right things.
I was on active duty in the Marines while studying for my MBA, so effective use of my time was critical. I would bounce ideas off of him and he would tell me what to do, and perhaps more importantly, what not to do. I remember him telling me to heavily prioritize networking in March and April 2022 – which I did – and to my great surprise I had an offer in May. I don't think he was surprised. I have continued to reach out to him after I got the role for life advice, and I will stay in touch for a long time as I develop in my new career. Thank you John for everything – you changed my life.

-Amis M., U.S. Marine Corps, Wisconsin


On behalf of Glenna Thompson, it is a pleasure to present a letter of testimony for the American Corporate Partners mentor of the month nomination. Glenna is more than a phenomenal mentor, she is a wife, a mother, a respected leader, a friend, and an inspiration for all to follow. Transitioning is comprised of highs and lows; it may be challenging to know what the next chapter may hold. Yet Glenna remained steadfast, she encouraged self-growth, facilitated interview preparation, and leveraged networking opportunities.
Our progress has been great. As a result, I've had interviews with over 20 senior leaders in the financial services industry. As well as offers that range from investment banking to wealth management. The ACP Mentoring Program has been a blessing and I am grateful that Glenna has dedicated her time, expertise, and mentorship to transitioning Service Members.

-Victor C., U.S. Army, California
October 2022: ACP congratulates Christopher Pfaff and Darryl Rodgers of UBS!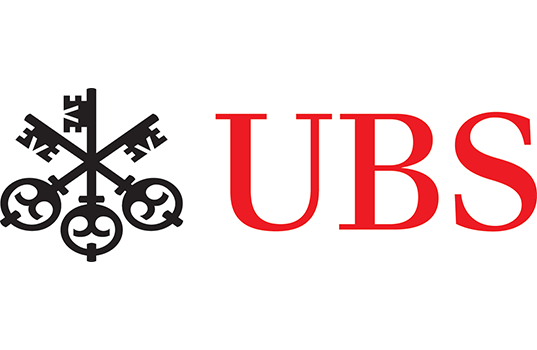 I would like to extend my deepest gratitude to Mr. Christopher Pfaff for his sincere mentorship over the last year. Not only is he deserving of mentor of the month, but he should also be considered for the mentor of the year. Chris has assisted me in networking through numerous financial avenues,  including his very own company, UBS. This resulted in my fostering and strengthening of former and future connections. Moreover, he has assisted me in drafting an extensive resume, which resulted in me landing a job during the process of my military transition. As if this wasn't enough, Mr. Pfaff took the time to teach me the numerous ventures in the civilian financial workforce, while strengthening my confidence for this monumental life change. Without Chris, I think my entire transition, growth, and personal satisfaction towards myself would be severely reduced in comparison to where I am today. I'm extremely lucky to have him as my mentor, as well as my friend.

-Tristan R., U.S. Coast Guard, Virginia


It is my incredible honor to nominate Darryl Rodgers for ACP mentor of the month. Darryl and I developed a strong connection the moment we were introduced he has been instrumental to my career transition planning. From helping me create a framework for my transition, to defining what "success looks like to me", Darryl has gone above and beyond to assist me in every capacity. During the most critical months of my transition, Darryl volunteered extra hours of his time to help me narrow down my choices for business schools and prepare for interviews. After receiving good news from multiple schools, Darryl played a key role in my decision-making process—lessening the stress for me and my family.
Thanks to Darryl's guidance, I will be enrolling at the University of Chicago Booth School of Business in the fall. I have also secured a Summer Associate offer from Mckinsey and Company for 2023. After relocating to Chicago, my wife and I had the opportunity to fellowship with Darryl in person and we look forward to continuing to strengthen what has become an invaluable friendship. I am extremely excited for this next chapter of my life and I am indebted to Darryl for helping me every step of the way.

-Pablo R., U.S. Army, North Carolina
September 2022: ACP congratulates Don Baird and Keri Cabral of Emerson!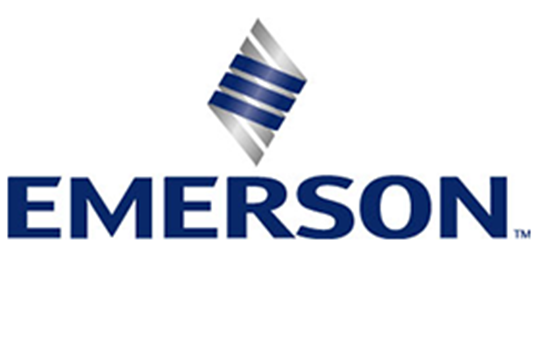 I am honored to nominate Don Baird for ACP mentor of the month. Right from the start of our mentorship program, I could easily tell our conversations would be enjoyable and meaningful.  I instantly knew from the beginning that he is a caring leader that looks out for his people.  As someone transitioning from the military after 30 years, I immediately felt connected with him because of his character. In our very first meeting, he just wanted to know about me and my family, and that meant a lot to me, because you can tell he genuinely cares about people, this program, and what it is designed to do. After getting to know each other, he took the time to review my resume and provide me with guidance on how the corporate world and recruiters look at my resume and what refinements I could make to tell my story better for others to understand that may not have any knowledge of military language. As I embarked on my very first civilian position, it was immensely useful to have Don to bounce challenges and ideas off of to help me navigate this new adventure in my life. He provided very insightful thoughts followed by past experiences of his own, and what seemed to work well or didn't for him. As a very successful leader within the Emerson corporation, he was able to provide me with several scenarios he had to work through, and gave me thoughts to think about to help me with my transition.
When I started my first job, one key piece of mentorship Don gave me was, he said I was undervaluing myself and said I was capable of so much more based on my experience, and he was spot on.  After just a couple of months and discussions with Don, I soon realized I needed and wanted more, and thanks to Don's support, I was able to search, find and accept a job with more responsibility and compensation, which was great for me and my family.  I don't know if I would have made the change so soon without the support and mentorship from Don.  Don is more than just an authentic leader and mentor, he is a friend that cares about the people he interacts with.  Don is also entering a significant transition in his life as he will soon be retiring. There is no doubt in my mind he will be extremely missed by his team because of the leader and friend I have come to know him to be.  Don is a special person, and ACP is fortunate to have him.

-Brian W., U.S. Army, Colorado


Please accept my nomination of Keri Cabral for ACP's Mentor of the Month recognition. Keri's support during my transition from a 20-year Marine Corps career into a second career in Human Resources has made a significantly positive impact on both my professional development and my work-life balance. Keri embodies the dedication to ACP's mission of providing quality mentorship, networking, and online career advice to servicemen, servicewomen, and active duty spouses transitioning from military to civilian careers.
Keri balances a home life, full of joy and challenges, with a demanding, meaningful career as a Human Resources Executive Director for Emerson Commercial and Residential Solutions / Cold Chain Digital Solutions. Keri's role in Emerson is very demanding, yet she exudes an air of positivity that can only be described as infections and inspiring – she has mentored me beyond expectations. My spouse is still on active duty and is currently deployed overseas – we have two small children, so it's an understatement that transitioning from my military career to a full time civilian HR career has been challenging. Keri's mentorship has been invaluable over the past ~10 months and I would like to highlight her talents as an ACP Mentor of the Month!

-Aicha C., U.S. Marine Corps, California
August 2022: ACP congratulates Peter DeMoss and Mary Zeller of Wells Fargo!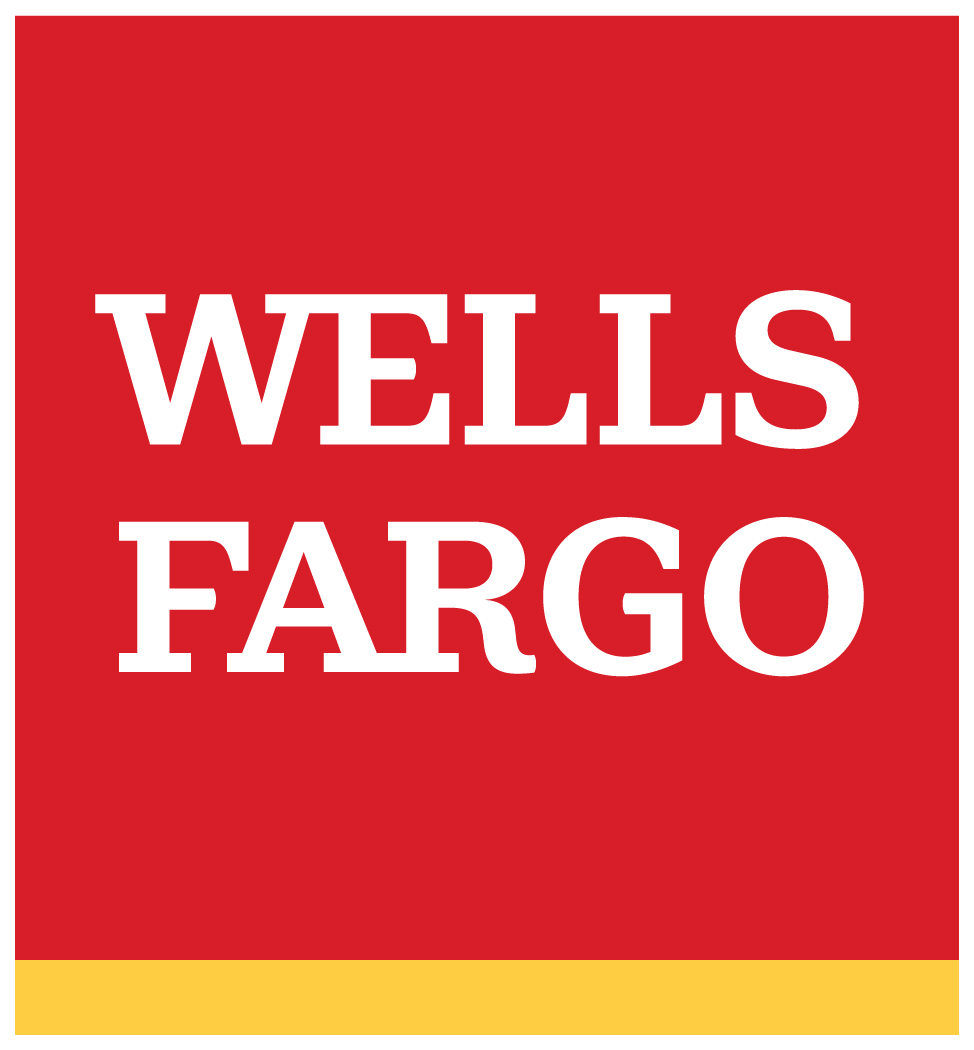 I wholeheartedly nominate Peter DeMoss as the ACP Mentor of the Month. Peter has kindly donated his time and insight above and beyond all expectations as I have made the transition from military to civilian life. His four-step model has provided a guided and structured approach to making the most substantial change in my life. He has coached me through the very difficult self-assessment stage to discover what truly motivates me, and leveraged that into pursuing my passion. With multiple resume submissions and revisions, he has given me the insight to understand the hiring process and to identify the exceptional characteristics that companies are hiring for. Additionally, he has provided valuable insight into the importance of networking, and the value inherent in building out connections and making your contributions known. Peter has never hesitated to give me complete candor, has shown genuine compassion, and is enthusiastic about sharing his insights. I have entered into the job search process thoroughly confident that I can find the right fit, and that Peter will continue to fearlessly provide guidance and encouragement. I cannot express enough gratitude to Peter and ACP for the support. 

-Adam C., U.S. Army, Texas

My name is Jeff Steinlage, and I am thrilled to nominate Martin "Marty" Zeller as the ACP Mentor of the Month! Marty has been an excellent mentor throughout this experience thus far and certainly has put me on track with my transition. He has assisted me with so much including resume layout and revisions and gave me a wonderful resource to assist with interview questions which I plan to use for my associates going forward. From the beginning of our relationship, I knew I wanted to leverage my Information Technology, Project Management and leadership background and skills in my post-military career; however, Marty helped me finetune the roles I was seeking in this next chapter. He selflessly devoted numerous hours of his personal time to answer my questions, listen to my thoughts, offer candid feedback, and discuss numerous aspects of the transition and hiring processes.
Through our discussions, Marty was extremely supportive and knowledgeable. His suggestions on how to navigate my career change aided my transition from the military to corporate America. With Marty's guidance and mentorship, I feel confident in knowing how to use the skills he helped me with and know that when the time comes I will be able to accept an offer in a role that I am extremely proud of. I consider myself very fortunate to have been paired with such an experienced, competent, and professional mentor through ACP. I sincerely appreciate all the guidance and assistance that Marty has provided to me. I am extremely grateful for his willingness to mentor me and help me get looked at. I cannot thank ACP enough for the connection and Marty for the mentorship. Marty is definitely one that needs to be recognized as a top-notch ACP mentor!

-Jeff S., U.S. Army, Virginia
July 2022: ACP congratulates Brent Apelt and Chuck Pearlman of Boston Scientific!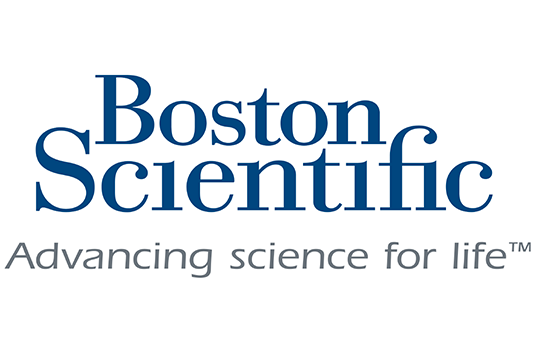 Through our discussions, Brent was extremely supportive and knowledgeable. His suggestions on how to navigate my career change aided my transition from the military to corporate America. With Brent's guidance and mentorship, I was able to accept an offer in a role that I am extremely excited to jump into within an organization that I aim to grow with for years to come. I consider myself very fortunate to have been paired with such an experienced, competent, and professional mentor through ACP. I sincerely appreciate all the guidance and assistance that Brent has provided to me. I am extremely grateful for his willingness to mentor me and help me get looked at. I cannot thank ACP enough for the connection and Brent for the mentorship. I would like to congratulate Brent for being recognized as a top-notch ACP mentor!
Matthew J., U.S. Army, New York


I would like to nominate Chuck Pearlman for ACP's Mentor of the month. We started working together in February and right off the bat you can tell Chuck really has a passion for helping veterans. Chuck has a wealth of experience in Marketing and even though I decided to pursue project management instead, he didn't waiver for a second to stay as my mentor and do anything he could for me. 
Chuck spent time critiquing my resume and providing invaluable feedback. He was able to set me up with two Project Managers in his company, both veterans, to do informational interviews with me. Chuck is extremely personable and I enjoy speaking with him every month about our personal lives and the progress I am making. He continues to provide input and ideas as I progress towards my Project Management Certification and I look forward to learning from him when I begin the interview process.
Anthony W, U.S. Navy, Michigan