Frequently Asked Questions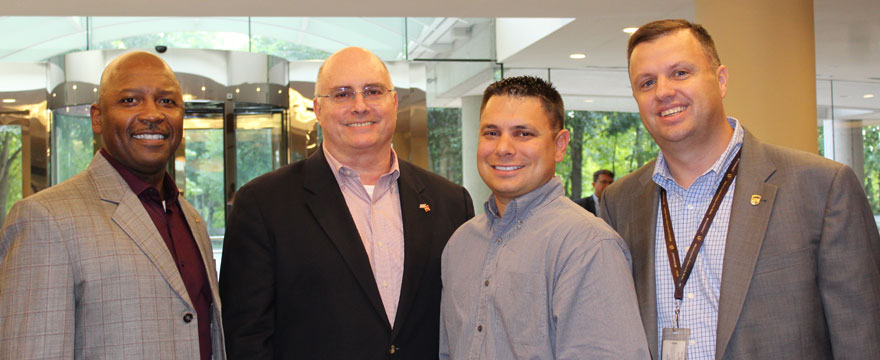 What is ACP's Veteran Mentoring Program?
ACP's nationwide Mentoring Program connects veterans with professionals from some of America's top corporations and select universities. Veterans are paired one-on-one for twelve months with a Mentor from one of ACP's Corporate Partners or with a select individual from our Citizens Program. Pairs are carefully selected based on their career compatibility and personalities. Veterans are mentored on topics ranging from résumé building and job market knowledge to networking, leadership, and much more.
Who are ACP's Mentors?
ACP Mentors come from both ACP's Corporate Partners, as well as a limited number of non-affiliated companies through ACP's Citizens Mentoring Program.
How does an organization become a Partner?
For more information on how to become a Corporate Partner, please contact Tim Cochrane, President, ACP Citizens Program at tcochrane@acp-usa.org or 212-752-0700.
Who is eligible to participate?
For Veterans: ACP's mentoring program is open to all currently serving and recently separated veterans (including members of the Reserve and National Guard) who have served on active duty orders for at least 180 days since 9/11. ACP's mentoring program is also open to surviving spouses and spouses of severely wounded post-9/11 veterans.
For Mentors:  ACP welcomes volunteers from our Corporate Partners to become Mentors, as well as select individuals who participate as Mentors through ACP's Citizens Mentoring Program. The ideal ACP Mentor is 35+ years of age, has 8+ years of professional experience and can devote at least 1 hour per month toward mentoring a veteran.
For Spouses: ACP welcomes applications from spouses of active duty service members.
What happens after an application is submitted?
After the online application is submitted, ACP will contact qualifying applicants within one business day to schedule an introductory phone call. During the call, applicants will learn more about the Mentoring Program and provide additional information in order for ACP to find the best possible pair.
What is the commitment level required to participate?
ACP asks for a yearlong commitment of active and regular contact between a Mentor and Protégé. Pairs are encouraged to have twelve significant discussions throughout the year. Locally matched pairs will be asked to commit to meeting in person whenever possible. ACP expects nationally matched pairs to communicate every two weeks via phone, email, and/or videoconference
For Service Members/Veterans
Does ACP provide job placement?
No. The Mentoring Program is not a formal job-placement program, but rather a tool for networking and long-term career development.
Can Protégés choose their Mentor?
No. ACP will determine the best pairings between Mentors and Protégés. However, we do take the Protégé's preferences into account when finding their Mentor.
Does this program cost money?
No. ACP's Mentoring Program is a free program for veterans and active duty spouses.
What does ACP expect from a Veteran or Spouse Protégé?
Protégés are encouraged to be proactive and establish open and honest communication with their Mentors. This entails scheduling meetings, suggesting events or activities to attend and assuming responsibility for the partnership. It is important to have realistic expectations about what Mentors can provide during the course of a mentorship. Mentors are available to guide and assist with professional development but are in no way required to find employment for Protégés.
ACP expects Protégés to respect the time and commitment of their Mentor and ACP staff. We ask that Protégés can commit to the program and are prepared for all meetings, calls, and social gatherings. Please refer to the Protégé Resources section of ACP's website for more mentoring tips.
Why should a corporate professional volunteer to be a Mentor?
ACP's Mentoring Program provides corporate professionals an opportunity to give back while gaining a deeper understanding of issues facing the veteran community. Contributing to the ongoing success and career development of a former or current service member through enhanced leadership, teaching and coaching offers fulfillment of one's patriotic duty by helping those who have served our country.
What does ACP expect from a Mentor?
A Mentor's role can vary widely, depending on the particular circumstances of both the Mentor and Protégé. ACP encourages Mentors to be flexible when understanding the expectations and goals of their Protégé. We ask Mentors to take responsibility for facilitating the mentorship, especially during the first quarter, and establish open communication early on.
Mentors can help Protégés identify their professional goals and provide feedback for improvement and encouragement. It is important to explain how corporate America functions, share critical knowledge, and identify relevant resources. Please refer to the Mentor Resources section of our website for more mentoring tips.
Does ACP provide training or assistance during the mentorship?
Before beginning a mentorship, ACP encourages participants to read the Mentoring Handbook and browse our Resource section to learn about how to build a successful mentorship. Each mentorship will be in contact with their own ACP Operations Associate (facilitator) to provide ongoing assistance and feedback throughout the year. ACP continuously offers tips and tools, including the Quarterly Activities page, to help establish a strong mentorship foundation and encourage continued growth.