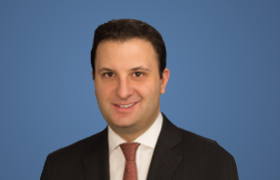 John is the chief financial officer of Goldman Sachs Bank USA. He manages the Regulatory Controllers teams, including the Comprehensive Capital Analysis and Review (CCAR) Controllers team where he is responsible for the firm's stress testing program. In addition, he is also responsible for the Capital Analysis Plans and Reporting team in conducting regulatory capital calculations, attribution and capital management. Lastly, he manages the Regulatory Financial Reporting team. 
Previously, John worked in Product Control, supporting the mortgage trading business. He joined Goldman Sachs as an associate in 2006 and was named managing director in 2015 and partner in 2022. 
Before joining the firm, John worked at KPMG, where he specialized in auditing financial institutions. John earned a BS in Accounting from Villanova University in 2003. He is a certified public accountant.