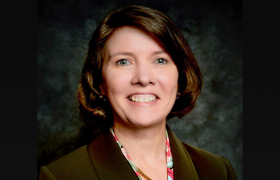 Director, Information Technology | Service Management at Red Hat | Chair, Military D&I Community
CAPT Carrie Hasbrouck (Ret.) graduated with a B.S. and Commission from Jacksonville  University Naval ROTC in 1988. She received an M.S. in Information Technology Management from Naval Postgraduate School; with a follow-on tour as Associate Fellow for Chief of Naval Operations Strategic Studies Group XXIV in 2005. 
When the combat exclusion law was repealed in March 1994, CAPT Hasbrouck (Ret.) asked for sea duty and received orders to USS CORONADO (AGF11), serving as Assistant Operations  Officer, Electronic Warfare Officer, and Propulsion Officer. During this tour, she earned her  Surface Warfare Officer qualification. She served as Combat Systems Officer on USS  ENTERPRISE (CVN65) from 2005 to 2007, successfully supporting Operations Enduring Freedom and Iraqi Freedom. Her afloat experience was fully leveraged onboard USS GEORGE  WASHINGTON (CVN73) as CTF 70 C4I Assistant Chief of Staff from 2010 to 2012, supporting  Forward Deployed Naval Forces and Operation TOMODACHI (Japan's 9.0 earthquake).  
Shore assignments for CAPT Hasbrouck (Ret.) were in vital supporting roles within the telecommunications realm and on the senior staffs that directed them; living in Hawaii, Iceland,  Norfolk, Monterey, San Diego (twice), Tampa, Bremerton, and three tours in Washington DC.  (Naval Telecommunications Command, OPNAV N6, Joint Staff J6). She commanded Defense  Information Systems Agency, US Special Operations Command. The pinnacle of her career was serving as CIO/N6 in support of the U.S. Navy SEALs.  
CAPT Hasbrouck (Ret.) retired in 2018 with 30 years of service in the US Navy. She continued government service as Director, Enterprise Applications for the North Carolina, Department of IT. Corporate life began at Red Hat, as Director for Engineering Infrastructure; connecting with  American Corporate Partners from her role as Chair, of Military Veterans ERG. She serves as a Board Member for NC State University's Women in Technology Leadership Program, and a Board of Advisor Member (IT/Comms) for The North Carolina Submarine Museum.