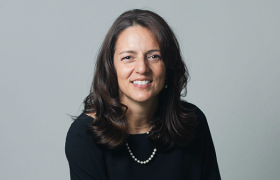 Paula Davis is Chief Communications Officer of Colgate-Palmolive Company where she is accountable for global communications, corporate brand stewardship, and corporate social responsibility. She also serves on the Board of Directors of the REACH Institute, which provides evidence-based training to diagnose and treat mental health issues, and as an advisor to Guild Education, a private education provider helping Fortune 1000 companies produce strategic talent advantages in retention, mobility, and diversity.  
Paula is a transformational leader and chief brand steward who collaborates with CEOs and Boards to lead organizations through significant actions and pursuit of greater scale and expansion. With an emphasis on ESG, change management, DE&I, and culture, Paula has a proven track record. Developing strategies to empower and align employees around a shared vision, resulting in stronger organizations that are more competitive, profitable and impactful.
As a Chief Communications Officer, Paula is responsible for delivering on shareholder expectations. In her current role, Paula managed the CEO transition with overwhelming support from shareholders and employees. As the SVP of Corporate Affairs and Communications and Chief of Staff to the CEO of Harman International, she worked alongside the CEO to rebrand the company from a hardware supplier to a software-driven connected technologies company, resulting in an acquisition at premium. In addition to updating the Board on ESG strategy, she successfully navigated the company through significant crises with minimal impact. 
Paula serves as a mentor for American Corporate Partners and a Girl Scout troop leader. She is a member of the corporate council of CARE, the Ad Council, the Women's Forum of New York, and Chief - the private network that connects female executives. Paula was named to Diversity magazine's Women Worth Watching list and was appointed a David Rockefeller Fellow by the New York Partnership. She holds an MBA from Northwestern University's Kellogg Graduate School of Management and a Bachelor of Arts in English and Psychology from the University of Michigan.