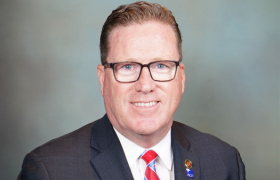 Executive Leader, Tailored Strategic Retention
Vice President Growth, Tenova LLC
Prior to joining Tenova, Tim was a United States Marine who specialized in Electronics while serving his country. As a Marine, Tim served in Guantanamo Bay, Cuba, attached to the Mine Field Maintenance Unit. After leaving Cuba he finished his enlistment with the 8 th  Engineers' Battalion in Camp Lejeune, NC. After returning home, he went on to attend Kingsborough Community College.
His civilian career began in 1985 on the floor of the New York Stock Exchange as an electronics technician with the Securities Industry Automation Corporation (SIAC). While working on the floor he was approached to become a clerk with the specialist firm handling the stock of Westinghouse.  In 1992, Tim set out on his own and became an independent floor broker.  He nurtured and grew his business for seven years, purchasing a seat and becoming an active member of the Exchange Community. While an Exchange Member, Tim served as a senior Floor Official, a director of the Floor Members Emergency fund and he was appointed by the CEO to serve as a member of the NYSE Hearing Board and as an Exchange political liaison. Away from the NYSE, in 2007, Tim ventured into the Real Estate world and started Empire Facilities and Project Management. Adding to the firm, he also founded Empire Managed Properties as a subsidiary of EFPM to facilitate property management and real estate brokerage.
In 2017, Tim joined American Corporate Partners, as President of their Citizens Program, a national nonprofit organization focused on helping returning veterans find their next career through one-on-one mentoring, networking and online career advice. At ACP, Tim helped manage the relationships of more than 100 Fortune 500 companies and added almost 50 companies in 4 years. Working daily with VSOs, the DOL, the VA, SFL, MFL and numerous national organizations in the veterans space, Tim brought ACP's mentorship program to tens of thousands of servicemen and woman and built ACP's national presence through speaking engagements and interviews in media outlets to include Bloomberg Television, CBS, FOX, Cheddar, WABC Radio, numerous print and trade magazines, blogs and social media.
Tim strongly believes in Community Activism, he has been part of the executive leadership of numerous political campaigns in NYC, as well as state and federal levels. He has served as a NYC Community Board Member and ran for a Congressional seat in 2008 for the 13th Congressional District. His philanthropic efforts include serving as Trustee and Chairman of Development for Daytop Village Inc., which provides substance abuse treatment for teens and adults; Board member for Samaritan Inc.; trustee for the YMCA Expansion Board and was a Founding Member of the Sisters of Life Advisors. Tim also served as an Officer of the Cathedral Club of Brooklyn, whose purpose is, in part, "to promote the moral improvement of its members."