Mayor de Blasio Marks Fleet Week with Announcement of NYC Veterans Mentoring Initiative
The Official Website of the City of New York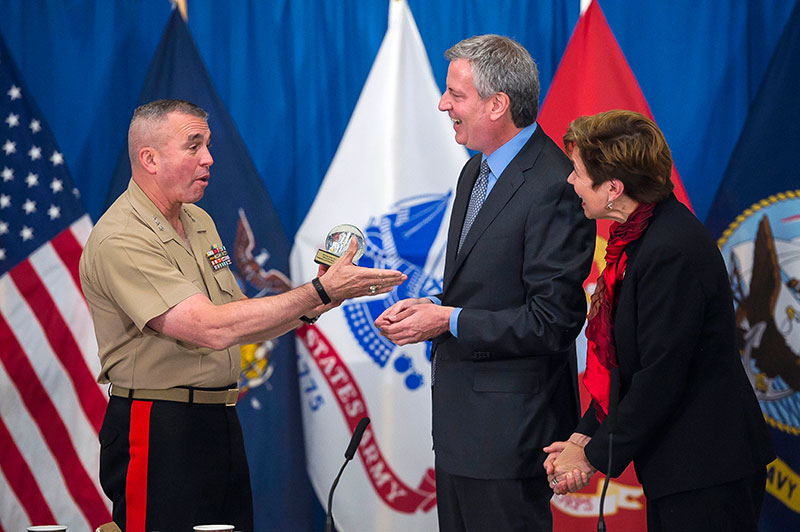 The initiative will bring together mentoring organizations, the City, universities, and others to ensure that every veteran or family member who wants to be a part of New York City has access to a mentor. The initiative will mentor 2,000 New York City veterans and family members by July 1, 2018
NEW YORK–Mayor Bill de Blasio and Department of Veterans' Services Commissioner Loree Sutton today marked the beginning of Fleet Week by announcing the NYC Veterans Mentoring Initiative. The NYC Veterans Mentoring Initiative is a public-private partnership bringing together City government, service providers, universities, and others to ensure that New York City's veterans and their families have access to high-quality mentorship. The NYC Department of Veterans' Services is acting as the backbone of the effort--setting the agenda, driving action, and convening stakeholders. The initiative is bringing together over a dozen service providers that offer best-in-class mentoring for veterans and their family members. The initiative will mentor at least 2,000 New York City veterans and family members by July 1, 2018.
"New York is at its best when all of its citizens are coming together," said Mayor de Blasio. "This mentoring initiative will help veterans succeed in school and find long-term careers. This program is about building relationships between veterans and civilians, and recognizing what they have in common as citizens of this great city."
The announcement includes a web page housed on the DVS website – www.nyc.gov/vets -- that allows New Yorkers to engage with veterans and family members by serving as a mentor. In the fall, aligned with the beginning of the school year, the City will launch a marketing campaign targeted toward veterans and their family members. The campaign will steer veterans and family members to a website that will coordinate referrals to ensure that every mentee is getting the most out of their mentorship experience.
The NYC Veterans Mentoring Initiative is the City's first contribution to Veterans on Campus-NYC, a new coalition of major public and private universities in New York City that aims to attract more student veterans by helping them to thrive once they're here.
Loree Sutton, Commissioner of the New York City Department of Veterans' Services said, "Mentoring is good for the city by being good for veterans. Veterans make great New Yorkers—nationally, we know that veterans vote more, volunteer more, and are employed at higher rates than their peers. And, veterans often come to the city bringing hundreds of thousands of dollars of federal benefits. But, transition is a vulnerable time for veterans and their families. Mentoring drives behaviors--building discrete skills, making informed decisions about higher education, and learning how to cultivate networks--that increase the likelihood that a veteran can utilize their unique life experiences to contribute to the city. Given their demonstrated commitment to service, veterans and their families are ultimately happiest when they're contributing to and leading within their communities and workplaces."
Martha Johnson, President of American Corporate Partners said, "ACP has been helping veterans in New York City and across the nation through personalized mentorship since 2008. We are committed to the professional success of every veteran by connecting them with business professionals from the city's top companies."
Diana Rau, CEO of Veterati said, "We're proud to work with Commissioner Sutton and Mayor de Blasio to create a future where every Veteran who comes home to NY will have access to mentors, on-demand. We hope our digital platform, which aims to connect 1.5m service members and 5.5 million military spouses to 100m employed Americans for career mentoring, will serve the great city of NY well! "
Gerry Byrne, Vice Chair of PMC Media Group and Chairman of Veterans on Campus-NYC said, "We want New York City to become the nation's premier destination for veterans, particularly those who want to use their GI Bill to pursue a college education. Mentoring is an essential part of making that happen."
"As the proud home to more student veterans than any other CUNY campus, we commend Mayor de Blasio and DVS Commissioner Sutton for their efforts and are thrilled to partner on this initiative to help military veterans transition back into civilian life", said Jeremy Travis, President of John Jay College of Criminal Justice.  "Veterans are a great asset to our College community and to the entire City. It is our duty to ensure their well-being and reintegration."
"I believe – as I'm sure do you – that a college education is one of the surest paths to social mobility, and to a more just and well-informed society. Educating veterans is not just beneficial to the veterans themselves, and to the society to which they are returning, but to college and university campuses. Veterans bring with them a maturity, diversity of thought, class, and culture that enriches the classroom experience and the campus community," said Rev. Joseph M. McShane, S.J., President, Fordham University
Todd Haskins, Chair of the New York City Veterans Advisory Board said, "mentoring veterans, particularly in the first couple of years after their transition from active service, hastens their ability to continue to serve as citizens. This is the foundational principle that cuts across all of our veteran policies and programs in New York City.  We are thrilled to see so many great organizations working in partnership with the Department of Veterans' Services to make this a reality and we want to send a message to all veterans that you have a home in New York City."
Andrea Goldman, Director of the Veterans For Employment Program at ICD, the Institute For Career Development said, "ICD is dedicated to helping veterans with service-connected disabilities find employment. Being a part of this initiative means bringing veterans and employers together in New York City, the city of unlimited career possibilities!"
Peter Gaudet, ProVetus Advisory Board Member said, "ProVetus is excited and honored to be working as part of the talented team of professionals at the NYC Veterans Mentoring Initiative. We are all extremely passionate about our mission to mentor veterans and empower our fellow Americans to reach their full potential. Veterans working and participating in New York's communities will ensure New York will always be the greatest city in the world."
We continue to be impressed with Mayor de Blasio's and Commissioner Sutton's efforts to bring together organizations from across New York City to work together to better serve the veteran and service member families that call the five boroughs home," said Retired Army Colonel Jim McDonough, Managing Director of Programs and Services at Syracuse University's Institute for Veterans and Military Families. "This initiative is the a big step toward ensuring that all of the city's military-connected members and their families can take advantage of the valuable service of mentoring."
Leora Shudofsky, Project Co-Director for CUNY's Project for Return and Opportunity in Veterans Education (PROVE) said, "CUNY has over 3,000 veterans on its campuses. On its several CUNY partner campuses, PROVE is excited to join with Mayor de Blasio and Commissioner Sutton to help veterans more easily access the resources they need to successfully transition from military life to student life and find a community of other student veterans. By helping student veterans succeed, we can help our city succeed."
Dan McSweeney, President of United War Veterans Council said, "United War Veterans Council is proud to participate in this important initiative.  In our efforts to honor and support veterans and their families, we often see a clear need by those who are returning home for guidance, moral support, and advice.  The Mentoring Initiative is an effective way to offer this formal and informal help by committed and vetted supporters who are on the ground in New York City and can draw from their experiences and networks."
Kathy Roth-Duquet, founder and CEO of Blue Star Families said, "In our work to support military families, we've seen first-hand how invaluable mentoring can be at all phases of military life, from active duty, through transition, and in veteran life. Navigating the path to post-duty academic and career success can be particularly challenging. We are thrilled that the City of New York and so many partner organizations have committed in such a tangible way to helping this population to thrive in the New York community, and we are honored to participate."
"Mentorship truly has the potential to help our Veterans fully transition into a successful civilian life. We are pleased to continue certification training for mentors and researching the extent to which mentorship for Veterans in NYC facilitates this successful transition," said Dr. George Bonanno, Executive Director, Resilience Center for Veterans & Families.  
Dr Art Langer, Founder and Chairman, Workforce Opportunity Services said,"Mentoring continues to be the most effective method of helping individuals grow in their social and professional endeavors. Veterans, in particular, need personal mentoring to help them transition from military to civilian life. Transforming into a civilian world is complex in many ways and requires navigating through personal and business environments. Every veteran should have a mentor who can guide them through this journey. To this end, we are proud to partner with the City of New York to bring more robust services to Veterans joining our community."
Jayson Browder, Founder and Executive Director, Veterans in Global Leadershipsaid, "As a VSO dedicated to providing student veterans with one-on-one mentoring, Veterans in Global Leadership is thrilled to join the City of New York, and fellow veteran empowerment organizations, to launch the NYC Veterans Mentoring Initiative."
Jack Fanous, Founder and CEO, JobPath said, "Mentorship is essential towards veterans finding the best employment opportunities. JobPath has been committed to providing mentorship to veterans, having developed an online platform where veterans can speak with corporate mentors who can guide them to their next career. We are proud to be a part of the NYC Veterans Mentoring Initiative, and look forward to helping more veterans succeed in finding employment."
Stephanie Richmond, Founder/CEO of Stand Beside Them, Inc (SBT) said, "SBT's network of trained professional coaches is thrilled to partner with the talented roster of organizations in the NYC Veterans Mentoring Initiative.  Together we will make sure no veteran is overlooked, as we seek to help veterans and their families create the bright futures they deserve here in NYC! Thanks to Commissioner Loree Sutton, Jason Mangone, and Mayor DeBlasio for organizing this and helping us make it happen!"
John Escalante, NYC Marine for Life Representative said, "The pulse of the NYC Veteran landscape is strong because of the coalition of like-minded organizations that unite and shoot at common targets to create soft LZ's to make gainful waves of support for America's heroes in the greatest Veteran-friendly city."
About the NYC Veterans Mentoring Initiative: The NYC Veterans Mentoring Initiative is a public-private partnership bringing together City government, service providers, universities, and others to ensure that New York City's veterans and their families have access to high-quality mentorship, offering advice on school, careers, and transition to civilian life. The NYC Department of Veterans' Services is acting as the backbone of the effort--setting the agenda, driving action, and convening stakeholders. But rather than the City creating a new program, it will rely on the great service providers that are already in NYC, offering services to veterans and their families.
Vision/Mission: When its veterans and their families reach their full potential, New York City benefits as a result. New York City should be a launching pad for transitioning veterans and their families: a place to develop the skills and create the networks they need to thrive. As a starting point, we aim to ensure that every veteran or family member who wants to be a part of New York City has access to a mentor. 
 
Year 1 Objective: Mentor 2,000 veterans and family members.
 
Strategies: To achieve its objective, the initiative will focus on three strategies:
Strategy 1: Marketing: Create content focused on both veteran mentees and also recruiting mentors.
Strategy 2: Coordination: Leverage the Vet Connect-NYC platform to intake veterans and refer to appropriate mentorship service providers.
Strategy 3: Collective Impact: Convene partners quarterly to drive the work, check progress, and share best practices. 
 
Participating Partners
American Corporate Partners
Blue Star Families
City University of New York (CUNY)
CUNY Office of Veterans Affairs
Fordham University
FourBlock
G.I. Jobs
Institute for Career Development
Job Path
John Jay College of Criminal Justice
CUNY PROVE (Project for Return and Opportunity in Veterans Education)
Paralyzed Veterans of America
ProVetus
Service To School
Stand Beside Them
Teachers College, Columbia University-Resilience Center for Veterans and Families
Veterans in Global Leadership
Veterati
Warrior-Scholar Project
Workforce Opportunity Solutions
NYServes-New York City
NYC Department of Veterans' Services
pressoffice@cityhall.nyc.gov

(212) 788-2958