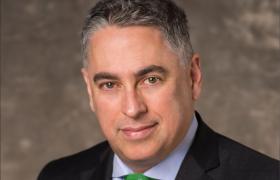 Darren Rough is a financial services executive living in Boston, Massachusetts. From 2013 to 2018, he was the President of Generation Capital, a privately owned wealth management company focused on family assets, located in Toronto, Canada.
Prior to Generation Capital, Darren lived in Boston, where he was a Managing Director and head of Corporate Development at Mariner Investment Group, a fixed income alternative asset manager.  Prior to joining Mariner, he was an Associate in the investment banking division of Goldman Sachs, working in London and New York, during which time he also worked on firm strategic initiatives in asset management and technology.  Darren began his career working for elected members of Canada's Parliament, including members of the House of Commons Finance and Justice Committees.
Darren earned an MBA from the Richard Ivey School of Business at Western University in 1999, a JD from the University of Saskatchewan in 1993, and a BA (Hons) in Political Science from Western University.  He serves on the investment committee of Huron College at Western University.  He also serves on the Board of SHAD, and education not for profit focused on extending the eduction of Canada's brightest high school students; he is also a SHAD Fellow.