Lt. General (Ret.) Thomas P. Bostick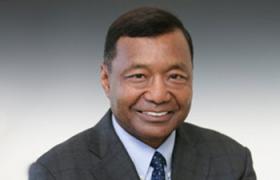 Lieutenant General (Retired) Thomas P. Bostick is a 1978 graduate of the U.S. Military Academy and holds Master of Science Degrees in both Civil Engineering and Mechanical Engineering from Stanford University, and a PhD in Systems Engineering from George Washington University. He currently serves as the Chief Operating Officer at Intrexon, a leader in the engineering and industrialization of biology to improve the quality of life and health of the planet. As Chief Operating Officer, Lt.
Gen. (Ret) Bostick oversees operations across the Company's multiple technology divisions, driving efficiency and effectiveness in the application of the Company's assets toward its development projects.
Lt. Gen. (Ret) Bostick served as the 53rd Chief of Engineers and Commanding General of the U.S. Army Corps of Engineers, where he was responsible for most of the Nation's civil works infrastructure and military construction. Lt. Gen. (Ret) Bostick also served as the Deputy Chief of Staff, G-1, responsible for total Army personnel and manpower; Commanding General, U.S. Army Recruiting Command; and as the Assistant Division Commander-Maneuver; and then Assistant Division Commander-Support of the 1st Cavalry Division. He deployed with the Division in support of Operation Iraqi Freedom before commanding the Army Corps of Engineers Gulf Region Division, where he was responsible for more than $18 Billion of reconstruction in Iraq.
Lt. Gen. (Ret) Bostick also served as an Associate Professor of Mechanical Engineering at West Point and was a White House Fellow, working as a special assistant to the Secretary of Veterans Affairs. Lt. Gen. (Ret) Bostick has been one of the leading advocates in the federal government on resilience and developing a systems approach to watersheds. He has appeared on CNN, FOX News, CBS Evening News, the Daily Show and more. He has spoken extensively on resilience including remarks at the United Nations, Risk Analysis World Congress in Singapore, and the National Academy of Sciences. He led the U.S. Army Corps of Engineers in the completion of the North Atlantic Coast Comprehensive Study: Resilient Adaptation to Increasing Risk report to Congress in 2015. Lt. Gen. Bostick was selected as a member of the National Academy of Engineering, the National Academy of Construction, and the George Washington University School of Engineering and Applied Science Hall of Fame for his many contributions to engineering.