Lt. General (Ret.) Thomas C. Seamands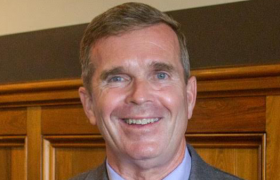 Lt. General (Ret.) Thomas C. Seamands is a senior principal on at McChrystal Group where he helps organizations tap into the potential of their people to better compete in a complex and interconnected business environment.  The implementation is done with data driven diagnostics, academics with shared understanding, common purpose, trust and empowerment.   
He most recently served as the Army G1 (Chief of People) responsible for Human Capital Support to 1.3 million Soldiers and civilians before transitioning out of uniform.  He was responsible for Talent Management, personnel policies, programs and budget for Soldiers, civilians and Families across the Army.  Before serving as the G1, he commanded the Army's Human Resources Command (executing the policies and programs), served as the Director of Military Personnel Management (developed and implemented policies and programs), G1, FORSCOM where he was responsible for HR support to the operational arm and largest organization in the Army, and the Chief of the Army's Senior Leader Development Office where he managed all the Generals and Colonels across the force, placing the right talent in the right job at the right time over time.
His education includes post graduate work as a National Security Fellow at the Harvard Kennedy School, a Fellow at MIT Seminar XXI focusing on National Security, a Master's from Webster University and a Bachelor of Science from the University of Dayton.  While at Harvard, he team-taught a class in Leadership.  He has lectured at the Mendoza Business School (Notre Dame), testified before Congress and has been interviewed on TV and radio covering topics across the HR spectrum from accessions to talent Management to IT.
He married his wife, Melissa, following graduation from the University of Dayton. They have two grown daughters:  Kate who lives in Los Angeles and is pursuing a career in Nursing and Colleen who is a Captain in the Army stationed at FT Carson, Colorado.