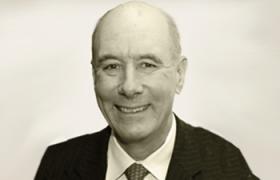 John Myers, Senior Advisor, joined the AG private equity team in 2006 after retiring from the General Electric Company (GE) as President and CIO of GE Asset Management (GEAM). At GEAM, John was responsible for approximately $200 billion assets under management for clients including GE's pension fund, 401K plans and Insurance Companies as well as more than 200 external institutional clients. 
During his 37 year career with GE, John served in several of GE's operating industrial businesses including assignments in Germany and Italy and he was Deputy Treasurer of the Corporation before joining GEAM in 1986.
John is on the Board of Directors of BuildOn, Legg Mason and the Pebble Beach Company. He serves on the Wagner College Board of Trustees and the Damon Runyon Cancer Research Foundation. John is also on the Advisory Boards of Aurora Capital and Academy Securities.
John graduated from Wagner College with a BS degree in Mathematics. After graduating from Wagner, John was a Lieutenant in the US Navy and served two tours of duty in Vietnam.