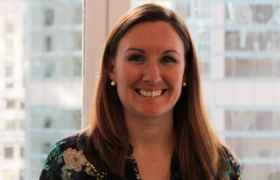 Colleen Deere is the Executive Director of ACP. She began her ACP career in 2010 as an Operations & Program Associate, and has worked on every facet of the organization since joining. In her current role, she works closely with ACP's management team, with a specific focus on corporate and foundation relations, veteran and military spouse outreach, external relations, and financial management.
Colleen graduated from the University of Mary Washington in Fredericksburg, VA with a B.S. in Business Administration and English, and later obtained a Master's Degree in English, Composition and Rhetoric from Kansas State University in Manhattan, KS.
Colleen is the proud spouse of an Army veteran (and former ACP Protege), Steve Deere. Steve served with the 1st Infantry Division stationed out of Ft. Riley, Kansas and deployed to Iraq in support of Operation Iraqi Freedom in 2008-2009. Steve is now an ACP Mentor.
Colleen and Steve live in Long Island, NY and are parents to three children, Sean, Ryan and Keira. As a family, they are involved in raising money and volunteering their time with nonprofits and charities such as Tuesday's Children, the CPL Christopher G. Scherer Memorial Fund, and St. Elizabeth Ann Seton Regional Catholic School.