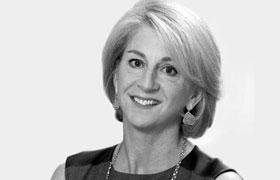 Amy Goodfriend is the founder and Chief Executive Officer of Goodfriend Partners a boutique executive coaching and consulting firm. Amy also serves on a number of boards both not-for-profit and private company boards.
Amy was previously a General Partners and Managing Director of Goldman Sachs & Co., prior to retiring in 2001. During her time at Goldman Sachs, Amy worked in the London and New York offices and was one of the leaders of its Global Equity Derivative Business. Amy was elected as the first woman Partner in the Equities Divisions of Goldman Sachs. In 2000, Amy was selected to be the Chief Operating Officer of Goldman's first global diversity task force, reporting to the Board of Directors. Prior to Goldman Sachs, Amy worked at General Foods Corporation in sales in the coffee division.
Amy earned a B.A. in French from Hamilton College in 1982 and a M.B.A from Cornell University in 1987.