General (Ret.) Peter Pace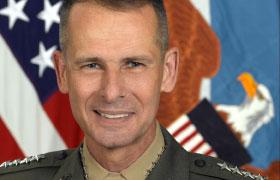 General, United States Marine Corps (Ret.)
16th Chairman of the Joint Chiefs of Staff
General Peter Pace is President and CEO of SM&A Strategic Advisors and is a member of the Board of Directors of SM&A. He serves on the President's Intelligence Advisory Board, and the Secretary of Defense's Defense Policy Board. General Pace is currently serving on the Board of Directors of several corporate entities involved in management consulting, private equity, and IT security. He is a long-standing member of the Board of Directors for the Marine Corps Law Enforcement Foundation—a charity that provides scholarship bonds to children of Marines or Federal law enforcement personnel who were killed while serving our country at home or abroad.
General Pace served for more than 40 years in the Marine Corps before retiring in October 2007 from the most senior position in the United States Armed Forces. He served as Chairman of the Joint Chiefs of Staff from 2005 to 2007. Prior to becoming Chairman, he served as Vice Chairman of the Joint Chiefs of Staff from October 2001 to September 2005. General Pace holds the distinction of being the first Marine to have served in either of these positions.
General Pace is a United States Naval Academy graduate and holds a Master's Degree in Business Administration from George Washington University. He attended Harvard's John F. Kennedy School of Government Program for Senior Executives in National and International Security Management, and is a graduate of Marine Corps Command and Staff College, and the National War College.