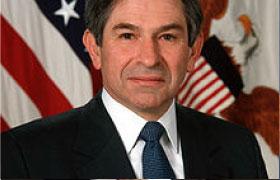 Former Deputy Secretary of Defense
Former World Bank President
Visiting Scholar, American Enterprise Institute for Public Policy Research
Paul Wolfowitz is currently a Visiting Scholar at the American Enterprise Institute. From 2005-2007 he served as the 10th President of the World Bank Group. Prior to that appointment, Mr. Wolfowitz spent more than three decades as a public servant, ambassador and educator, including 24 years in government service under seven U.S. presidents.
Mr. Wolfowitz has also been a leader in higher education. From 1994-2001, he served as Dean and Professor of International Relations at the Paul H. Nitze School of Advanced International Studies of The Johns Hopkins University. Earlier, he taught political science at Yale University. Mr. Wolfowitz has written widely on foreign policy, diplomacy and national security, and was a member of the advisory board of Foreign Affairs.
In government, Mr. Wolfowitz served three years under Secretary of State George Shultz as Ambassador to Indonesia, the fourth most-populous country in the world and largest in the Muslim world. Earlier, Mr. Wolfowitz served as head of the U.S. State Department's Policy Planning Office (1981-82) and as Assistant Secretary of State for East Asia and Pacific Affairs (1982-86), where he worked directly with the leaders of more than 20 countries. In that position, Mr. Wolfowitz played a key role in supporting the peaceful transition to democracy in the Philippines in 1986 and in laying the groundwork for the subsequent democratic transition in Korea.
In 1989, President George H.W. Bush appointed Mr. Wolfowitz to the post of Under Secretary of Defense for Policy, where he played a central role in planning for the successful liberation of Kuwait, including organizing the fundraising effort that raised $50 billion in multilateral support. He also helped develop the U.S. administration's historic nuclear arms reduction initiative in September 1991.
As Deputy Secretary of Defense under President George W. Bush from 2001-2005, Mr. Wolfowitz's responsibilities included assisting in the development of policy guidance for the response to the terrorist attacks of September 11, 2001, including Operation Enduring Freedom and Operation Iraqi Freedom, and overseeing the budget process.
Mr. Wolfowitz majored in Mathematics at Cornell University, in Ithaca, NY, and earned a Ph.D. in Political Science at the University of Chicago