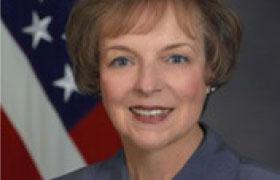 Associate Director, Hayes & Associates
Mary Jo Myers, a military spouse for more than 40 years, is married to General Richard B. Myers, the recently retired Chairman of the Joint Chiefs of Staff. She is an Associate Director of Public Affairs for Hayes & Associates, a public relations, communications and event planning firm.
In recognition of her volunteer service, she was appointed to the President's Council on Service and Civic Participation in February 2006 and has received numerous humanitarian awards commemorating her commitment and service to helping others. She continues her involvement with the military by serving on the Board of Trustees for the Fisher House Foundation and was instrumental in establishing the "Hero Miles" program operated by Fisher House that uses donated frequent flyer miles to purchase tickets for families of hospitalized military members to visit their loved ones. Mary Jo Myers also serves on the board of the National Military Family Association, Discovery's Military Channel, TriWest Healthcare Alliance, the Aschiana Foundation, and MediSend. Mary Jo is a trustee for Kansas State University and she serves on the Advancement Council for Leadership Studies and Programs.
Mary Jo Myers received a Bachelor of Arts degree in English from Kansas State University.