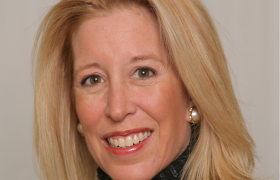 SVP, Director of Creative Development, HarperCollins Publishers
A creative pioneer across multiple media platforms, Sharkey has overseen the acquisition and publication of more than fifty New York Times Bestsellers, including multiple number one bestsellers.
Her team at HarperCollins acquires high profile non-fiction books across all divisions of the company and in translation around the globe.
Authors she's published include: Jim Acosta, Tim Tebow, the late Elijah Cummings, Megyn Kelly, Laurie Hernandez, Jessie James Decker, Russ, Lindsey Vonn, Jorge Posada, Bud Selig, Tony La Russa and HRH The Prince of Wales.
As part of her HarperCollins innovation, Sharkey created a robust video and livestreaming division with tens of millions of views of book-related content.
Lisa is also a veteran interviewer, moderator, and speaker on various topics from book publishing to transferable skills in the media landscape and has written for top magazines such as Redbook, and Parents.
Prior to her publishing career Sharkey was President of Al Roker Entertainment, Senior Producer of Good Morning America and worked at various network news organizations from CBS to PBS and KingWorld.
A two-time Emmy Award winner Sharkey is also the recipient of Peabody and Dupont Awards for her work as part of the ABC News team during 9/11.
Sharkey co-authored, with her husband, architect Paul Gleicher, the book Dreaming Green: Eco-Fabulous Homes Designed to Inspire published in 2008 by Clarkson Potter.
Sharkey is a member of various groups and organizations including: the New York regional cabinet for Washington University in St. Louis; advisory board member for NABU.org, and a founding advisory board member of the Palm Beach Book Festival.
Sharkey also spearheads the annual Mona Sherman Memorial Lecture in Great Barrington, Massachusetts, in honor of her late mother, which brings high profile speakers to The Berkshires at no cost to the community each Memorial Day weekend. For the past seven years, Sharkey has been a mentor for American Corporate Partners and enjoys continuing friendships and occasional mentoring with many of her former mentees. Her current mentee, Justice Pelton, a 23-year veteran of the US Marine Corps is currently pursuing his dream and working in production at the CBS program SEAL Team.
Lisa earned her bachelor's degree in Comparative Arts from Washington University in St. Louis and resides in one of New York City's first eco-houses designed by her husband and three children.