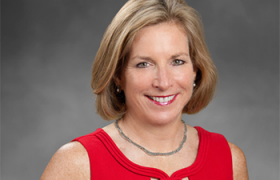 Georgeann McRaven, wife of retired Admiral Bill McRaven, was born and raised in Dallas, Texas and spent nearly four decades in the critical support role of military spouse.
Georgeann met Bill when she was an accounting major at The University of Texas at Austin. Bill was a Naval ROTC midshipman at University of Texas and went to Basic Underwater Demolition SEAL training after graduation in 1977. Georgeann and Bill married in 1978 and moved to Coronado, CA where Bill was stationed at Underwater Demolition Team 11.
The couple has served in assignments across the United States, including tours in California, Washington D.C., Florida, Virginia and North Carolina, as well as two overseas assignments in the Philippines and Germany.
Throughout their time in the Navy, Georgeann put her accounting degree to work, serving as treasurer for many volunteer organizations, including her children's school PTAs and Spouse Clubs. Her most personally rewarding involvement, however, has been the countless hours she has invested in projects benefitting veterans and supporting military families.
As a Navy spouse for 36 years, Georgeann is intimately familiar with the challenges and pressures of the role. She is particularly passionate about supporting young families and has spearheaded many projects for their care and welfare. While serving as the wife of the commander of U.S. Special Operations Command, Georgeann worked tirelessly to improve the lives of the service members and their families through the Preservation of the Force and Families initiative and the Care Coalition, which helps wounded warriors and the families of the fallen.
Georgeann was selected by the Secretary of the Navy to be the sponsor of the Guided Missile Destroyer, USS RALPH JOHNSON and she has been recognized by the Chief of Naval Operations, the Chairman of the Joint Chiefs and the Secretary of Defense for her service to military families.