General (Ret.) David H. Petraeus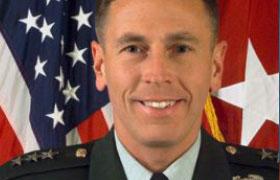 General David Howell Petraeus served more than 37 years in the U.S. Army, retiring as a four-star general in August 2011 to become the director of the CIA. In his final years in uniform, Petraeus led the "surge" in Iraq from 2007 to 2008, commanded U.S. Central Command from late 2008 to 2010, and commanded international forces in Afghanistan from 2010 to 2011. He then served as director of the CIA for 14 months.
David Petraeus grew up in Cornwall-on-Hudson, New York and graduated with honors from the U.S. Military Academy at West Point in 1974. A graduate of the U.S. Army Command and General Staff College (1983), he also earned advanced MPA and Ph.D. degrees in international relations (1985, 1987) from Princeton University's Woodrow Wilson School of Public and International Affairs. He later completed a fellowship at Georgetown University's School of Foreign Service (1995).
Petraeus was deployed for nearly 7 of the 10 years that followed the 9/11 attacks. He served in Bosnia from 2001 to 2002 as the chief of the NATO forces operations there. He subsequently led the 101st Airborne Division in the 2003 attack on Saddam Hussein's regime in Iraq and then moved the division north, where it spent the remainder of the first year of Operation Iraqi Freedom. Shortly after returning to the United States, he returned to Iraq briefly to assess the Iraqi Security Forces and then for 15-1/2 months to establish the multi-national and NATO commands that were charged with the recruiting, training, and equipping of the new Iraqi military and police forces and their respective ministries. Petraeus returned to the United States in the fall of 2005 and took command of the U.S. Army headquarters that oversaw 17 different Army schools and centers, a position from which he directed the development of new strategies for counterinsurgency operations. Petraeus returned to Iraq in early 2007 to take command of the Multi-National Force-Iraq, the position from which he led the so-called "surge" in a new strategy against the insurgents and militia extremists that were responsible for a horrific escalation in violence in Iraq. Over the subsequent 19-1/2 months, violence was reduced by some 90%. He left Iraq in the fall of 2008 and became commander of the U.S. Central Command, overseeing operations in the Middle East and Central Asia. In late June 2010, he was selected to become commander of U.S. and international forces in Afghanistan, and he served in that post until July of 2011. Following his retirement from the military, he was sworn in as director of the CIA, a position he held until November 2012.