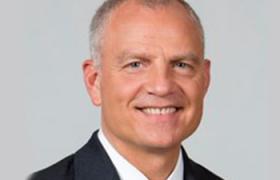 UPS Vice President, Corporate Human Resources
As Vice President Corporate Human Resources, Chris is responsible for maintaining UPS's reputation as an employer of choice for over 450,000 global employees. He oversees human capital strategy in identifying, cultivating and engaging a diverse and highly skilled workforce committed to world-class service and safety.
Chris has been a UPS partner for over 30 years, with proven experience in the operations, human resources and global strategy development. Starting as an entry-level part-time package handler while attending university, he was promoted to lead multiple line operations and Human Resources teams in New Jersey, California, Indiana, Chicago and Virginia. In 2001, Chris was expatriated to Belgium where he served as Vice President of Human Resources & Labor for UPS' Europe, Middle East & Africa region. During his tenure, UPS acquired and integrated domestic transportation competitors in the UK and Poland, while integrating and harmonizing earlier acquisitions into UPS' European business.
Chris' decade of international experience was then leveraged in UPS' strategy group. Among his achievements in this role, he started up a 21-country Middle East joint venture in Dubai, expanded UPS' Global Healthcare strategy and optimized the UPS Store franchise network. In 2011 he assumed senior HR leadership for UPS' largest operating region worldwide based in New York City and was subsequently promoted to his current UPS HQ role in Atlanta in 2014. Dedicated to his country and his community, he proudly served for over 20 years in the US Air Force & National Guard. Chris is passionately committed to veteran causes and is active with the Paralyzed Veterans of America, American Corporate Partners and VETLANTA. He currently serves on boards with United Way, USO, Rutgers University Heldrich Center for Workforce Development, and Bobby Dodd Institute, and is the former board vice-chair of the New York Urban League.
Chris obtained his BA in Economics from Rutgers University, his MBA from Saint Mary's College, with post graduate studies at INSEAD and professional certifications as Senior Professional in HR (SPHR) and Global Professional in HR (GPHR). He is an active alumnus of Leadership Atlanta Class of 2016.