Serving the Service Member: American Corporate Partners
Military Health Institute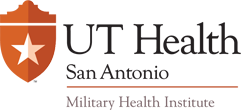 Working Together
Collaboration and partnerships lead to innovations. We are dedicated to advancing the health and well-being of our military and civilian families through innovations that have a direct clinical impact.
Recent clinical advances gained from military operations often have a reciprocal impact on our civilian populations.
If you are a member of an academic institution, industry or philanthropic organization with an interest in advancing the health of our service members and their families, please contact mhi@uthscsa.edu.
American Corporate Partners
MHI leads the university effort of promoting American Corporate Partners (ACP). This national mentoring program provides veterans opportunities to grow professionally through resume building, networking, and career advising. MHI actively recruits UT Health San Antonio faculty and staff to serve as mentors.
ACP Mentors and Protégés are paired for one year based on a variety of considerations. Each pair is encouraged to speak at least once a month, typically virtually, to discuss topics like résumé and interview preparation, networking, and other professional development topics. Throughout the year, an ACP staff member will be checking in regularly as support. Only 25% of ACP's Mentors are veterans themselves, so you do not need to be a veteran to apply – just someone who wants to give back to this deserving community!