Inside UMB: Easing the transition for veterans in the workplace
UMB Financial Corporation
As part of our Inside UMB series, we're excited to share a story about how our associates are helping U.S. military veterans transition into civilian careers. Leading this partnership on behalf of UMB is Larry Seward. Larry transitioned to our Corporate Audit team after a 21-year Army career and working with a professional mentor.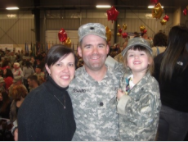 UMB partners with American Corporate Partners (ACP), an organization that aims to ease the transition from the military to civilian workplace by connecting transitioning service members with corporate professionals for one-year mentorships.
UMB has participated in ACP since 2014 and has 26 active mentors in the program.*
Larry's experience with American Corporate Partners started when he was a mentee, which led to him being hired at UMB.
"Although I had some great mentors in my Army career, I was looking for insight from a seasoned corporate professional to help prepare me for my transition, challenge my assumptions, fill in any knowledge gaps, and strategize on how to best market my skills and experience.
My mentor was easy to talk to and great to work with. We set goals, identified possible career fields, worked on personal branding and interview preparation. I was hired at UMB in May 2015. My mentor's input and insights were helpful to my getting hired and we still keep in touch to this day."
After serving in leadership positions in the Army for many years, Larry wanted to take on a leadership role through his career at UMB by becoming an ACP mentor.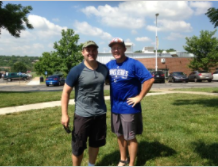 "I found through my experiences as a mentee and mentor that there are strong parallels between the Army's values and UMB's.
UMB looks for leadership, team players and critical thinkers to improve performance, drive change and achieve objectives. I think that recruiting from the Armed Forces adds value to UMB, because we have a mindset that any mission, however challenging, can be achieved.
In my experience, veterans are loyal to an organization from Day One and want to make an impact quickly. They also care about the people in the organization and want both their coworkers and the organization to succeed.
The combination of a proactive mentee who is hungry for a new challenge and a seasoned mentor who is able to provide critical insights is a recipe for success for mentees, mentors and companies looking for diverse talent. Mentors have the opportunity to directly impact someone who has put their own life on the line."
*The UMB Veterans Engagement Taskforce (VET) mission is to provide corporate opportunity to those who sacrificed so much, providing veterans with career and purpose … not just a job. The VET is focused on three pillars: recruitment, engagement and community service.