General (Ret.) Raymond T. Odierno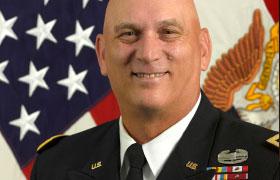 General Raymond T. Odierno (U.S. Army, Ret.)
General Raymond "Ray" Odierno is a retired four-star U.S. Army General who served as the 38th Chief of Staff of the Army from 2011-2015.  
 
During more than 39 years of distinguished service, General Odierno commanded units at every level of the Army, with service in both the Persian Gulf and Iraq Wars. In 2001, General Odierno took command of the 4th Infantry Division during Operation Iraqi Freedom and later served as the Commanding General for the surge of forces that is credited for a dramatic decrease in violence throughout Iraq. As Assistant to the Chairman of the Joint Chiefs of Staff, he was the primary military advisory to Secretaries of State Colin Powell and Condoleezza Rice. General Odierno has received numerous awards and decorations for his leadership and service to the country, including four Defense Distinguished Service Medals, two Army Distinguished Service Medals, the Defense Superior Service Medal and six Legions of Merit.  
 
In 2015, General Odierno was appointed Senior Advisor to JPMorgan Chase & Co. to provide strategic advice and global insights to Chairman and CEO Jamie Dimon, the Board of Directors and members of the Operating Committee on a broad range of issues including international planning and country risk analysis, technology, operations and the rapidly evolving issues of physical and cyber security. In this role, General Odierno also advises on JPMorgan Chase's Military and Veterans Affairs strategy and execution as a member of the Military and Veterans Affairs Advisory Council, engaging on these important issues in public forums and with policy makers. 
 
A native of Rockaway, New Jersey, General Odierno graduated from the United States Military Academy at West Point and holds a master's degree in Nuclear Effects and Engineering from North Carolina State University. He is a graduate of the Army War College and holds a master's degree in National Security and Strategic Studies from the Naval War College.