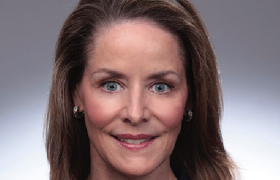 Ms. Davisson is the Chief Executive Officer of American Corporate Partners (ACP). Prior to joining ACP, Ms. Davisson spent more than two decades working in finance for institutions including Morgan Stanley, Goldman Sachs and Eton Park Capital Management. She was promoted to Managing Director in the Equities Division of Goldman Sachs in 2002. Over her career in finance, Ms. Davisson raised billions of dollars of capital from institutional investors globally for corporate clients and hedge funds. After a successful career in the private sector, Ms. Davisson joined the World Economic Forum, a Swiss-based non-profit, where she ran the Cities Infrastructure and Urban Services Platform.
Ms. Davisson has been involved with ACP since 2010 and was one of the organization's longest-serving mentors. In addition to her current role with ACP, Ms. Davisson serves on the Board of Directors of Bottomless Closet. She also served on the Board of Junior Achievement Worldwide, where she was Treasurer and a Member of the Executive Committee.
Ms. Davisson earned an M.B.A. from the Harvard Business School and a B.S. in Commerce, with Highest Distinction, from the McIntire School of Commerce at the University of Virginia, where she was an Echols Scholar. She is married to John Irish, a graduate of the University of Notre Dame, who spent close to 30 years on Wall Street.