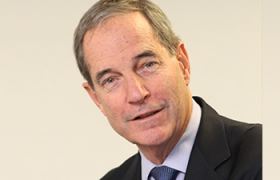 Managing Partner of WBR Advisors LLC.
Bill is a seasoned investment professional with over 40 years of experience in the global financial industry. He serves as an Independent Board Director and/or Senior Advisor to a range of organizations, in both the not-for-profit and for-profit arenas. His Wall Street career began in 1973 at Donaldson, Lufkin and Jenrette. He has a long-history of involvement within the hedge fund community, which began in 1983 when he met Julian H. Robertson Jr. of Tiger Management. Bill has been investing in hedge funds ever since. He has lectured at the University of Virginia, Yale University, Harvard University and was Professor with distinction at I.E. University in Madrid, Spain.
Bill was a U.S. Army Infantry Lieutenant in Vietnam and spoke Vietnamese. He was awarded the Bronze Star, the Army Commendation Device for Valor and Combat Infantryman Badge while serving as an Advisor to the Vietnamese Military in 1969 and 1970 on the border of Cambodia. Bill serves on the Board of the Jamestown Foundation ( www.jamestown.org ), started by the Central Intelligence Agency, which is widely considered one of the best resources on Global Terrorism and Russia.

Bill is Chairman of the Governors' Council of the Cerebral Palsy Alliance Research Foundation in NYC. He has a long history of involvement in causes related to Cerebral Palsy. In 2016, Bill joined the Board of Directors of "Rhymella", a customized children's book company. In 2018, he joined the Board of Directors of "Potentia Analytics", an artificial intelligence company with predictive analytics based in Carbondale, IL. In 2019, he was invited to join the Board of Directors of"Mydayda, Inc.", a Medicare data management company founded by a United States Marine. Until recently, Bill was a Trustee of the Episcopal Academy, founded in 1785, in Newtown Square, Pennsylvania.