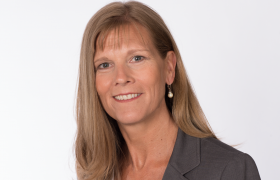 Vice President Digital Supply Chain, Unilever
Wendy has 25+ years experience with Unilever and has held leadership roles across both Finance and Supply Chain. She started her career with Unilever in Bristol, England and has worked in numerous countries across Europe, Asia and the Americas.
Wendy studied Chemical Engineering at the University of Lowell and holds a Chartered Institute of Management Accounting Professional Qualification.
In 2015, Wendy was appointed to the position of VP Supply Chain US responsible for end to end Supply Chain integration, Supply Chain Digital Strategy and in-market business results.
Wendy was appointed VP Global Digital Supply Chain in July 2018.
Wendy is a member of various groups and organizations including: Achieving Women's Excellence in SC Operations, Management and Education (AWESOME), Global Supply Chain Institute Advisory Board, Executive Sponsor of Veteran's Business Resource Group, and Vice Chair at the Domestic Violence Crisis Center (DVCC) in Connecticut.   
Wendy currently resides in Rowayton, Connecticut with her husband David.