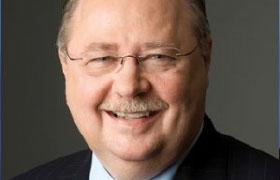 Robert J. Kueppers is deputy CEO of Deloitte LLP. He is responsible for regulatory and professional matters, and serves as an advisor to major clients of the firm.
Mr. Kueppers was previously the senior technical partner with Deloitte & Touche LLP. Prior to that, he was in charge of the professional practice group, served as the national director of SEC services, and as the national director of independence. Mr. Kueppers was also the CFO of an SEC-reporting manufacturing company and a fellow in the Office of the Chief Accountant at the SEC.
In 2009, Directorship magazine recognized him as one of the top 100 influential professionals in corporate governance and in the boardroom. Mr. Kueppers is a member of the Carlson School of Management Board of Overseers, the Millstein Center for Corporate Governance Board of Advisors, the United Way of New York City Board of Directors, and is a trustee of the SEC Historical Society.