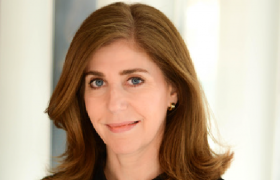 Chief Digital Officer at Merriam-Webster
Lisa Schneider is Chief Growth Officer at Framework, a social enterprise organization focused on building strong communities through the stabilizing force of homeownership. In other words, making the world a better place.
Previously Lisa was Chief Digital Officer at Merriam-Webster, where she led digital strategy and product innovation. She spearheaded a digital transformation that  redefined the dictionary for the digital age, changing people's perception of the brand from a "dusty book on the shelf" to a timely, relevant resource and commentary users turn to every day. Under Lisa's leadership, Merriam-Webster grew its audience, extended to new platforms, and won numerous awards—including eight Webby and three Shorty Awards.
She is a Webby Awards Executive Judge, and was recently featured on the AdAge Creativity 50, Folio: Top Women in Media, and Constellation Business Transformation 150 lists. Lisa is also a sought-after speaker for conferences and podcasts on leadership and digital transformation.
Lisa drove similar digital transformation at previous roles: She turned the Bridal Guide website from a "companion site for merchandising banner ads" into a highly engaged community destination that was one of the first to experiment with sponsored content and social contests; and at Budget Travel she tripled growth through content, partnership, and monetization strategies, turning the website into a profitable, self-sustaining business.
Lisa also held executive roles in digital strategy and product development at Penton and Reader's Digest. 
In addition to her involvement with ACP, Lisa serves as a mentor and advisor for the OU Impact Accelerator.
Lisa holds a degree in English & American Literature from Brandeis University. She lives outside of New York City with her husband, a combat veteran of the U.S. Army, and their two children.