Lt. General (Ret.) Joseph E. Martz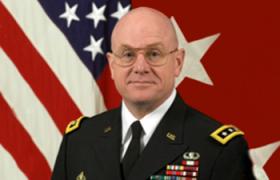 Founder of Martz & Associates Consulting, LLC
Lieutenant General (Ret.) Joe Martz is currently the President and CEO for Martz & Associates Consulting, LLC. In October of 2014, he completed 36 years in the U.S. Army.
Joe hails from Pennsylvania and was commissioned in 1979 as an Armor/Cavalry officer from the United States Military Academy. He holds a Bachelor of Science degree and three Master's degrees in the Administration of Higher Education, Operational Planning and Strategic Planning.
He served in Army units in Germany, the United States, the Republic of Korea and Southwest Asia. His command and staff assignments through 2007 were in Armor/Cavalry units, leader development, training development and change management.
He is the only Army General Officer in a generation to have served successively in the Requirements, Programming (fiscal) and Budget processes. At the Army Capabilities Integration Center, he led Concepts Development, Experimentation and Requirements Integration. As the Director, Program Analysis and Evaluation (PA&E), he annually developed the ~$1T Army Future Years Defense Plan. Finally, as the Military Deputy for Budget to the Assistant Secretary of the Army for Financial Management and Comptroller, he was responsible for planning and executing the Army Budget (~$200B) from 2012-2014.
Joe serves on the Advisory Board for American Corporate Partners, a not for profit company providing corporate mentorship for transitioning service members