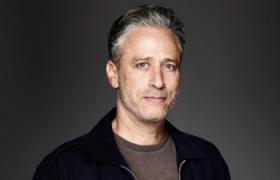 Former Executive Producer, Host, Writer
Jon Stewart is considered one of America's top social and comedic voices. From his anchor chair on COMEDY CENTRAL's "The Daily Show with Jon Stewart," "Stewart has breathed new life into a show that hadn't even seemed to need it," said The New York Times. Since taking over as the host of "The Daily Show" in January, 1999, Stewart's presence has seen higher ratings and awareness for himself, as well as the network.
As host of "The Daily Show" Stewart has interviewed such luminaries as President Barack Obama, former Presidents Bill Clinton and Jimmy Carter, Vice President Joe Biden, former Vice President Al Gore, Senators John Kerry and John McCain and Secretary of State Hillary Rodham Clinton, as well as such celebrity icons as Tom Cruise, Tom Hanks and Bruce Willis. In addition, General Pervez Musharraf, President of the Islamic Republic of Pakistan, was Stewart's guest on September 26, 2006, marking the first time a sitting head of state had appeared on the show. Other international figures that have appeared on the show include former Prime Minister of Great Britain Tony Blair, Bolivian President Evo Morales and Vicente Fox, the former President of Mexico. 
Since arriving in 1999, Stewart and "The Daily Show" have received 48 Emmy® Award nominations and won 18 times. These include winning for Outstanding Writing for a Variety, Music or Comedy Program eight times (2001, 2003-2006, 2009, 2011, 2012) as well as Outstanding Variety, Music or Comedy Series for the past ten years (2003-2012), an Emmy record for consecutive wins in any category. Jon himself was nominated for Outstanding Individual Performance in a Variety or Music Program five times (2002, 2003, 2005, 2007 and 2008).
In 2004, "The Daily Show with Jon Stewart" was also honored by the Television Critics Association by winning for Outstanding Achievement in News and Information, beating out traditional news shows in the category. Jon has been honored three times by the Association for Individual Achievement in Comedy (2003, 2005 and 2006) and the show won in 2003 for Outstanding Achievement in Comedy. In 2001, "The Daily Show with Jon Stewart" also received the prestigious Peabody® Award for excellence in its "Indecision 2000" campaign coverage and again in 2005 for "Indecision 2004."
While it may be the conventional route for a stand-up comedian to sign a book deal and expound on their early days inside dingy comedy clubs, Stewart has gone the other way. His debut book, Naked Pictures of Famous People, (Rob Weisbach Books) is a collection of humorous what-if essays. Stewart's latest book (written with the writers at "The Daily Show"), AMERICA (THE BOOK): A Citizen's Guide to Democracy Inaction, was released in 2004 through Warner Books Publishing, and immediately topped The New York Times Best Seller List and stayed at #1 for 18 consecutive weeks. It was also ranked #1 on the best-seller lists in The Wall Street Journal, The Los Angeles Times, USA Today and San Francisco Chronicle. Additionally, America was given the prestigious book of the year in 2004 by Publishers Weekly. In addition to this, at the 2005 Grammy® Awards, both Jon and the Cast of "The Daily Show" were honored with Best Comedy Album, for "AMERICA: A Citizen's Guide to Democracy Inaction." 
Prior to taking over "The Daily Show," Stewart was a series regular on HBO's critically-acclaimed series-within-a-series, "The Larry Sanders Show," playing a character he should know very well: himself. The final season saw, among other things, Stewart seemingly being groomed to take over the fictitious late-night throne from the perpetually paranoid Larry Sanders (Garry Shandling). Stewart also served as a creative consultant on the series.
Hosting a late-night talk show was nothing new to Stewart. After briefly hosting a half-hour nighttime talk show on MTV, aptly titled "The Jon Stewart Show," Paramount enlarged the show to a one-hour format for national syndication. The critically-acclaimed talk show featured a variety of celebrity guests from the worlds of music, entertainment, sports and fashion. The show aired from September 1994 through June 1995.
Stewart's been seen in numerous feature films including the Danny De Vito-directed Warner Brothers Comedy "Death To Smoochy" starring Edward Norton, Robin Williams, De Vito and Catherine Keener, "Big Daddy" opposite Adam Sandler, which grossed over $160 million dollars domestically, the romantic drama "Playing By Heart" opposite Gillian Anderson; and "The Faculty," a horror-comedy directed by Robert Rodriguez. 
The New Jersey native began honing his skills in New York City, moving through the ranks of its top comedy clubs to appearances on HBO's "Young Comedians Special" and "Late Show with David Letterman."
Stewart has graced the cover of numerous magazines including Newsweek, Rolling Stone, New York Magazine, etc. He was also named "Entertainer of the Year" for 2004 and, more recently, one of the "Entertainers of the Decade" by Entertainment Weekly and as "New York Entertainer of the Year" by Variety. Stewart has also been featured on such shows as "Oprah" and "60 Minutes."