Lt. General (Ret.) Howard B. Bromberg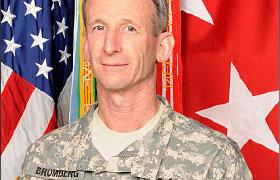 Vice President and Deputy, Strategy and Business Development, Air and Missile Defense
Howard Bromberg is currently the Vice President and Deputy for Strategy and Business Development, Air and Missile Defense for Lockheed Martin Corporation. In October of 2014 he completed 37 years in the United States Army serving as a Lieutenant General. 
Mr. Bromberg hails from California and was commissioned as an Air Defense Artillery officer in the U.S. Army upon graduation from the University of California at Davis in 1977. He holds a bachelor's degree in Agricultural Economics and Management.
He has served in Army units in the United States, Germany, Korea and Southwest Asia. He commanded at every level from platoon to installation including Ft Bliss, Texas and the 32d Army Air and Missile Defense Command during Operation Iraqi Freedom.
Most recently he served as the U.S. Army's Deputy Chief of Staff, G-1 responsible for developing, managing, and executing manpower and personnel plans, programs, and policies for the total Army. Prior to this assignment, he served as the Deputy Commanding General/Chief of Staff, U.S. Army Forces Command, the Chief of Staff, U.S. Strategic Command, and the Commanding General of Fort Bliss and the Air Defense Artillery Center.