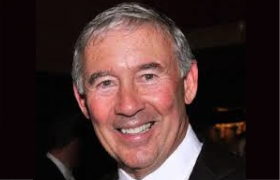 Ed Vick spent over 30 years in the marketing communications business, nearly half of that in Chairman, CEO or COO positions.  He retired as CEO and Chairman of Young & Rubicam Advertising Worldwide, whose clients included iconic brands such as Ford, Accenture, AT&T, FedEx, United Airlines and Verizon.
A Naval officer prior to his business career, Ed served in Southeast Asia during the Vietnam War.  With the Navy's River Patrol Force, he led over 100 combat missions on the rivers of the dangerous Mekong Delta.  He holds two Bronze Star Medals with Combat "V", the Combat Action Ribbon, the Vietnamese Cross of Gallantry and other awards.  His unit also holds the Presidential Unit Citation, the highest combat honor an American unit can receive.
Ed has long been active in veterans' causes.  He was the first Chairman of Iraq and Afghanistan Veterans of America, the largest non-profit membership organization dedicated to improving the lives of those veterans.  He also served on the Board of Give an Hour, which provides free mental health care for veterans and their families, and is advisor to Purple Heart Homes. 
A native of Philadelphia, Ed holds degrees from the University of North Carolina, Chapel Hill and Northwestern University.  Beyond veterans' causes, he has served on the Boards of The American Foundation for Aids Research, The United Negro College Fund, Northern Westchester Hospital, and The American Association of Advertising Agencies.  He is currently the Chairman of the Board of Advisers of the School of Media and Journalism at UNC Chapel Hill.  He recently stepped down as Chair of the Board of Trustees of The Episcopal Academy outside Philadelphia.
Ed is a member of The St. Andrews Society, The Union League Club, Vietnam Veterans of America and the mysterious Ends of the Earth Society.  In 2003 he published the historical novel SLINGSHOT based on his experiences in Vietnam.